Message From the Principal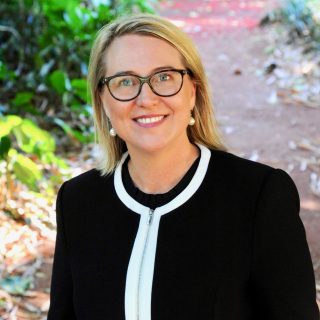 The College community has enjoyed a wonderful start to Term 3, exploring our beautiful new East Precinct building and firmly placing the focus on learning engagement. Our very first gathering since Term 1 as a learning community was held in Week 1 in our new auditorium. Despite the stark differences of this experience to ensure we adhered to all COVIDSafe guidelines and protocol for Schools, I am certain all in attendance felt excited to be finally enjoying this space.
This week we celebrated and acknowledged Catholic Education Week. 2020 marks the 175th year of Catholic education in Queensland. My experience as a young person attending a Catholic school for both primary and secondary education throughout the 1980s was no doubt a very different experience to what young people know today with more advanced technology, global awareness and the myriad of available opportunities. However, what has always remained an unwavering focus in Catholic schools is the challenge for everyone to use their God-given gifts and talents to find ways to make the world a better place for all.  Pope Francis once said "Rivers do not drink their own water; trees do not eat their own fruit; the sun does not shine on itself and flowers do not spread their fragrance for themselves. Living for others is a rule of nature. We are all born to help each other. No matter how difficult it is…Life is good when you are happy; but much better when others are happy because of you". This is where a Catholic education makes a real difference in the lives of so many young people and their communities.
We were able to acknowledge Tamarra Woods, our College Community Service Prefect who has been awarded the 2020 Dues Caritas Award for our College at the Townsville Catholic Education Mass held at Sacred Heart Cathedral on Monday of this week. This is testament to her genuine commitment to her service to others and living out the Gospel values.
We are also immensely proud of Mrs Tracy Nioa and Ms Megan Christie who have been nominated for 2020 Spirit of Catholic Education Awards. These incredible educators work tirelessly to empower all of those they encounter, fostering a culture of inclusiveness, respect and a genuine love of learning.  
I would also like to take this opportunity to acknowledge the large number of our students and their extraordinary achievements that we have been sharing on Assembly and via social media.
COVID-19 Update
This situation remains ever present for us as a nation and as a community. I would like to take this opportunity to remind parents/guardians that our College has COVID-19 Risk and Outbreak Management Plans in place and are available via the Learning Hub. We continue to adhere to all COVIDSafe guidelines and protocol for schooling environments. I am attending regular briefings for Queensland Catholic and Independent Schools to ensure I have the most up to date information for our community. However, this pandemic requires everyone to play their part in keeping others safe. Mr Cameran Triffett, Deputy Principal has outlined reminders in his newsletter message. I am certain families are all aware of the recent updates on border restrictions, interstate travel challenges and required quarantine arrangements.
May God bless you all and your families
Amber Hauff
College Principal