Deputy Principal
Deputy Principal
Cameran Triffett
COVID 19 Updates
With the relaxation of restrictions on July 3, I would like to remind parents/guardians of the steps the College is continuing to take to keep our community safe.
According to the Queensland Government, schools must still observe physical distancing measures for adults. With this in mind, we would like to make the following request of parents.
Please only visit Student Reception if you need to sign your daughter out.
Where possible, please call the College on 4753 0300 for any enquiries you may have.
Please refrain from congregating in areas inside or around the school, including by the College gates.
Students are regularly reminded to continue to demonstrate good hygiene practices. There are signs around the College and in bathrooms showing the procedure for effective hand washing. Teachers are provided with sanitiser to dispense to students who require it and extra high touch point cleaning is taking place throughout the day.
We continue to adhere to and follow COVID safe practices and protocol to keep people safe.  
College Photo Days
Academy Photography will be attending the College on 13 and 14 August 2020 for this year's College photographs. Your daughter will be given her own personalised flyer prior to photo day with instructions on how to order. Orders are only able to be placed online. Students are to bring this flyer with them on photo days. Replacements will be available if needed. If you have any questions, please contact Academy Photography on 1800 816 224.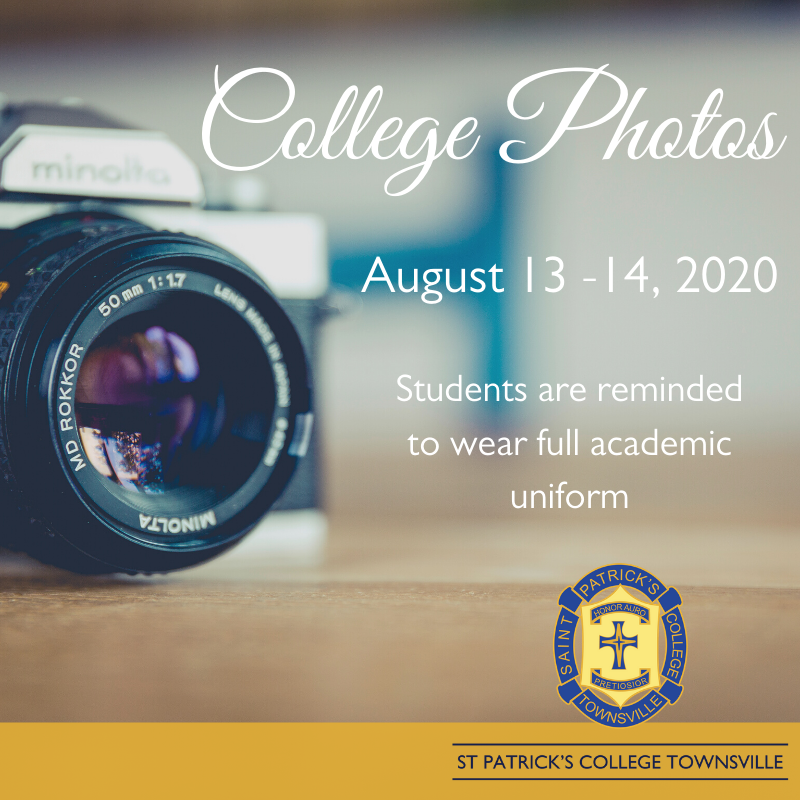 School Zone flashing lights now active at St Patrick's College Townsville
On 20 June 2020 flashing light school zone signs were installed on Oxley Street. St Patrick's College Townsville and St Joseph's School North Ward were nominated to receive these new signs as part of a Queensland Government commitment to improve school road safety. 
You will notice that the new signs look similar to standard school zone signs with the addition of a red flashing ring around the speed limit as well as two flashing yellow lights at the top of the sign. The installation of flashing light school zone signs is proven to improve visibility of school zones, serving as an active reminder for motorists to slow down.
So next time you're dropping off or picking up your child, keep an eye out for the new signs and make sure you stick to the signed speed limit.