COLLEGE LIBRARY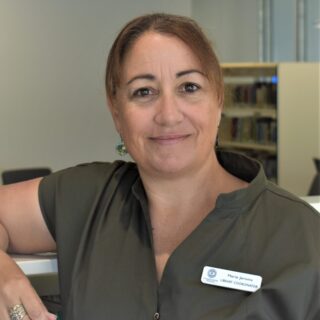 May is the month of "Find your place at the Library". Our library is many things, a study space, a place to meet quietly with your friends. A space to get some space. Everyone is welcome and valued in our library. 
Some Librarians love the smell of old books, me personally, it is the new book smell and intriguing cover art that peaks my senses. So far this month we have had a total of 24 books arrive on our doorstep and they are processed and ready to go! All books that are on display are for you to peruse and borrow, not to sit there and look shiny, come and check them out! Don't be afraid of leaving the display bare, any empty easels will be filled quickly with a new read.
Perhaps stimulating your olfactory senses with new books is not your thing, well luckily, we have over 2000 titles and over 800 audio books that can be accessed using the Wheelers Platform. How do you do that I hear you ask? You can access Wheelers via the St Patrick's Library Website found via the Library tile on the Learning Hub. If you have any questions, pop up to the library and I can assist you in your pursuit of online reading.
Look out for the end of term Staff versus Students jigsaw challenge, register your team of four puzzlers before Week 8!
Ms Marie Jerome
COLLEGE LIBRARIAN. E: mjarome@stpatscollege.qld.edu.au