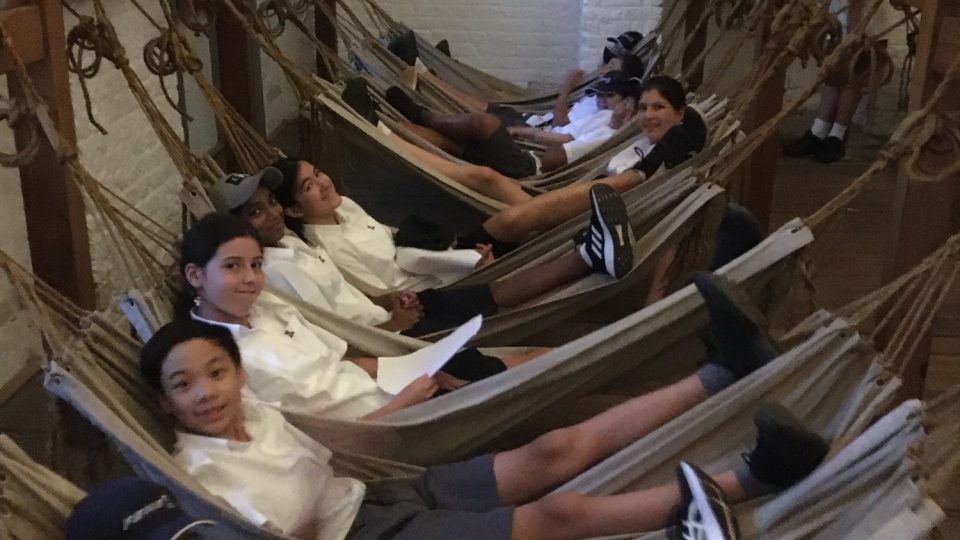 Year 7 History Excursion
On Monday, year 7 Fortians from 7R and 7O along with Ms Wark, Mr De Bres and Ms Thompson headed off to Hyde Park to discover some historical artifacts. When we got to Hyde Park, we started on the south side and slowly headed towards there after we completed a worksheet based on the artifacts that were on the south side. These historical objects, statues and artifacts were discussed with your group and there were certain questions we had to answer about them. Other than that, it was quite fun roaming around Hyde Park with your friends and trying to find the next historical item that was on your list.
We had breaks in between and discussed the different and unique things that were found around the place.
Eventually we finished the whole park and went to the Hyde Park Barracks. Everyone was then relieved that there was air conditioning as it was a very hot day. In the museum was a lot of information about different artifacts that were found around the Barracks back when it was a convict accommodation. We learnt how women were significant at the time and also did a little bit of archaeology. There was a sandpit with hidden items in the sand and we pretended to be like professional archaeologists using a sift, toothbrush, hand shovels, and a flat trowel. Honestly, the best part for all of the students were the hammocks. On that hot day of hard work we were awarded with an air conditioned hammock room, amazing. Overall, a great and fun day.
Joshua Lam 7R
On the 1st of March, 2021 we went to Hyde Park and Hyde Park Barracks with Mr de Bres, Ms Thompson and Ms Wark. We caught a train from Petersham to Museum Station and then walked to Hyde Park. We started down at the southern part of the park and received a worksheet (prepared by Ms Wark) that we had to complete in small groups. Our group consisted of Maxaviar, Levi, Denzel, Umasuthan and Lucas.
We walked around and studied historical sites such as The Anzac Memorial, The Yininmadyemi Thou didst let fall sculpture and The Emden gun. A little later we all met up at the Captain Cook Statue to have recess before crossing over to Hyde Park North. There we marked off more sites on our work sheet and wrote answers to the given questions. As we explored and stared back into the past instead of the future we gained an appreciation and understanding of the early history of Australia. When we had finished we met at The Archibald Fountain to have lunch before setting off to Hyde Park Barracks.
At the Barracks we were put in groups for activities.The first activity was a simulation of an archaeological dig. One person dug sand with a shovel, one person sifted the sand and the third person analysed what had been uncovered. We found a bone from the body of a cow which had been sliced down the middle with a large cleaver so that bigger portions of meat could be put in the convicts stews.
For the second activity we walked into the Barracks itself and learned how, after the convicts had gone, the building had been turned into a place for women coming from England, and after that, an insane asylum. We also looked at all of the artefacts that had been discovered there. One crazy thing is the number of pipes that had been found in the building. Afterwards we went to the convicts' preserved sleeping quarters. At first, the hammocks were comfortable, but after a while they became very annoying.
For the final activity, we walked into a room. There were three tables laid out with miscellaneous items. We were split into groups and using the evidence provided we had to theorise who the owner of the items might have been and their approximate age. For our group, there were gift cards, a vegan biscuit box, a concert CD and others. We came to the conclusion that the owner was a middle aged woman as they had tax receipt, a baby voucher and an old CD.
Once we finished visiting the Barracks we walked back through Hyde Park to St James Station to catch a train back to Petersham. We enjoyed learning about the history of Hyde Park and Hyde Park Barracks on the excursion. It gave us a view on history that was different from just reading something in class.
 Maxaviar Lum and Levi Darcy-Smith  (70)