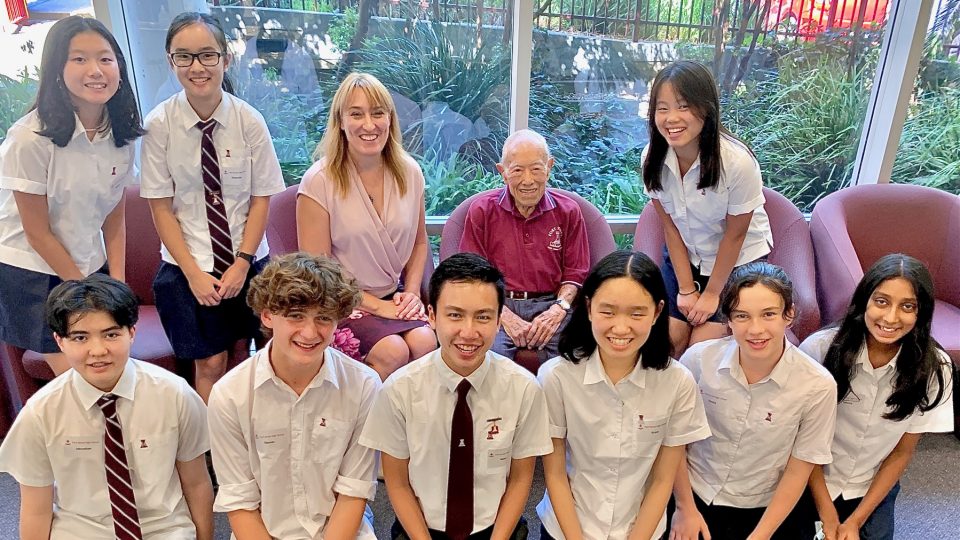 SRC Report
2021 SRC Update #2
The SRC has been busy this past month with organising various school events and attending external functions.
Meeting Dr Norman Sydney Hing (Fortian 1935)
On Friday 5 February, members of the SRC, Principal and School Archives team welcomed Dr Hing, his daughter Amanda and friend Dr Olav Nielssen (Fortian 1977) to the Fort. This was Dr Hing's first visit back to the school after his graduation in 1935. His name appears on three honour boards around the school which celebrate his achievements as Dux 1935, seven A grade passes in the Intermediate Certificate Examination and recipient of the Killeen Memorial Scholarship. The members of the SRC all had an opportunity to chat with Dr Hing, who wished them, and all Fortians success in their future careers and prospects.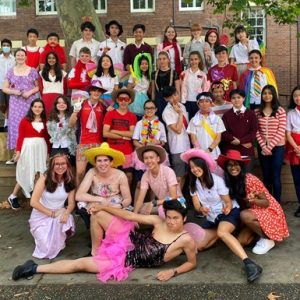 Annual SRC Rose Drive
The Rose Drive was once again a success with 1833 roses sold this year, toppling last year's record. SRC members arrived at school early on Friday 19 February to prepare, dethorn and sort the roses for distribution. A big thank you to those students who supported this annual fundraising event.
Supporting the P&C Uniform Store
Fortians had an opportunity to purchase good quality second hand uniform items at bargain prices on Friday 26 February. This was jointly run by the SRC and Fort Street P&C.
Clean second hand uniform donations will be much appreciated. Please deposit them at the Front Office.
 Year Seven SRC Elections
The Year Seven cohort has been settling into the Fort very well, and recently elected their SRC members. Thank you to all students who nominated themselves for this important role. Congratulations to the successful candidates: Elisa Wong, Miranda Leighton, Cloris Wang, Alisha Ung, Abhijay Beer, Aaditiya Venkatraman, Kai Hall and Aiden Lee. Wishing you all the best with this distinguished role in representing your peers and the wider school community.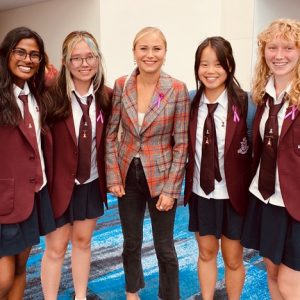 United Nations International Women's Day
On Friday 5 March, the Principal, Mr Micheal Galvin (SRC Coordinator) and Year 11 SRC executive members attended the International Women's Day (IWD) Luncheon at the Sydney International Convention Center, hosted by UN Women Australia. The theme for IWD 2021 is "Women in Leadership: Achieving an equal future in a COVID-19 world". This theme celebrates the tremendous efforts by women and girls around the world in shaping a more equal future. Moving keynotes were presented by Grace Tame (2021 Australian of the Year), Elizabeth Broderick AO and Yasmin Poole.
IWD was celebrated internationally and at the Fort on Monday 8 March. The SRC organised a message wall for students to recognise women who lead and inspire their lives. IWD celebrations continued on Friday 12 March where a bake sale and mufti day was organised to raise funds for UN Women Australia.
Prefect Afternoon Teas (PATs)
PATs are an opportunity for student school leaders to network, share ideas regarding school improvement projects and, of course, socialise too. The Year 11 SRC executive members have been invited by many schools and attended PATs hosted by Sydney Boys High and Strathfield Girls High. We have recognised the opportunity to exchange ideas and better ways to engage with our own school community via this forum. As such, we are planning our inaugural PAT to be held later this year.
News Flash
New school uniform items are on their way! These include redesigned sport shorts and lightweight cotton jumper.
Oval upgrades: Construction of a second outdoor volleyball court and installation of tiered sandstone seating on the oval will begin soon.
Canteen will be offering an EFTPOS payment system soon.
Construction of new outdoor learning space in Rowe Quad has begun.
Get ready for the annual SRC Easter Egg Hunt event at the end of this term! Follow the SRC Instagram @srcfshs for regular updates.
We are always keen to receive your feedback and ideas on any school related issues with a view to improve our community. Please contact your SRC via email (srcfshs@gmail.com),  Instagram or simply letting one of our members know.
Peter Tran
SRC Vice-President
Year 11