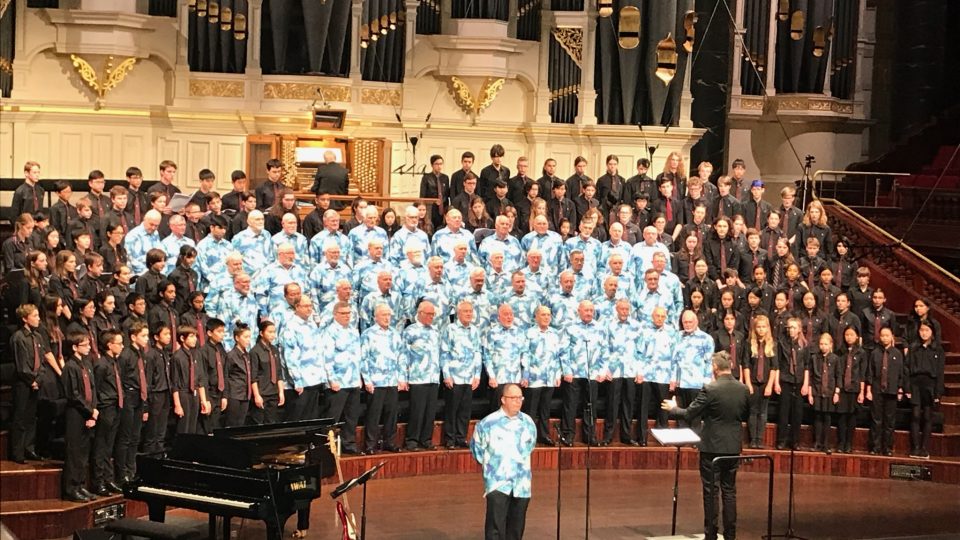 Instrumental Music Program
Chamber Choir and Vocal Ensemble in Concert
On Sunday 8thSeptember Chamber Choir and Vocal Ensemble, directed by Alex Pringle, performed in a joint concert with the Sydney Male Choir, at the Sydney Town Hall. The event was a huge success, attended by an audience of over nine hundred. Both Chamber Choir and Vocal Ensembleperformed brilliantly in their solo items, and were joined by the Sydney Male Choirto sing Tippet's Spirituals, and Take Me Home Country Road. The finale of the concert had much of the audience singing along. The concert was a great testament to the power of community music-making, and the love of singing shared by Fort Street and Sydney Male Choir, and the IMP has been overwhelmed by emails from audience members, congratulating the students on their fantastic performances.
Sydney Male Choir made a sizeable donation to the school following Sunday's concert, which will fund bursaries for IMP members who require financial assistance in 2020.
Hire instrument servicing 
This is a friendly reminder that hire instruments must be serviced annually (this is a requirement of hiring that all hirers agree to when completing the hire form). The IMP will be monitoring instrument servicing and upkeep to ensure instruments are kept in good condition so that can be used by future IMP members.
If your hire instrument hasn't been serviced in the past 12 months please attend to this ASAP. There is a list of recommended instrument service and repair businesses, in the IMP Membership Handbook. In some cases you may need to book in for a service (especially at peak times such as school holidays).
Tour 2021
The IMP will be touring to Spain and Portugal in 2021.
Students who will be in Years 10-12 in 2021 are eligible to attend. In limited circumstances students who will be in Year 9 in 2021 may be invited to join the tour, subject to availability of places and the instrument needs of tour ensembles.
Interested parents and students should attend an information meeting on Monday 23 Septemberin the Hall. Geoff Hayes from Hayes Travel Enterprises will present the proposed itinerary, and Mr Manchester will talk about touring in general, and some of the school requirements, and to answer any questions you may have. It is very important that families and students who are interested in this tour attend the information evening.
If you would like a taste of what an IMP tour has to offer, check out the 2018 Tour Blog: https://fortstreetimp.wordpress.com/​