FACULTY NEWS
YEAR 9 JAPANESE EXCURSION
On Friday, Grade 9 Japanese students visited GYO Japanese restaurant. It was a fantastic experience! They were able to practise Japanese phrases and sample a wide variety of Japanese cuisine, including, karaage, nigiri sushi and gyoza (which was a crowd favourite). The students very much enjoyed the experience, and it was wonderful hearing them trying out different phrases with the waiters during the lunch and with each other. We are very grateful to the staff at GYO for sharing their delicious Japanese cuisine with us and interacting with our students in Japanese.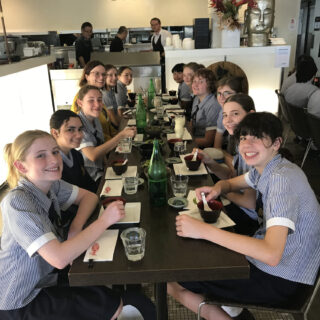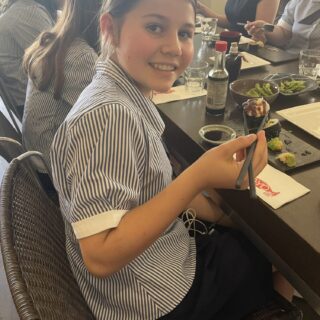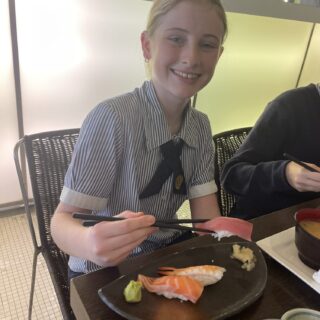 Arigatoo gozaimashita!
Anna Kendall
JAPANESE TEACHER. E: akendall@stpatscollege.qld.edu.au
HOSPITALITY NEWS
The Hospitality Kitchen has been buzzing this term with girls creating some delectable dishes! 
Year 11 students have been immersing themselves in a "Casual Dining Unit", which focuses on building their knowledge and skills in kitchen production and service. During the course, they have investigated cafes and foods in and around Townsville. For the assessment, they will create a blog promoting local food venues for tourists visiting the area. They have trailed Squeeze Me and had the opportunity to trial entrees from Touch of Salt including baked Harvey Bay Scallops, Japanese braised Pork Belly, Duck & Ginger Spring Rolls & Goats Cheese & Ricotta Gnocchi.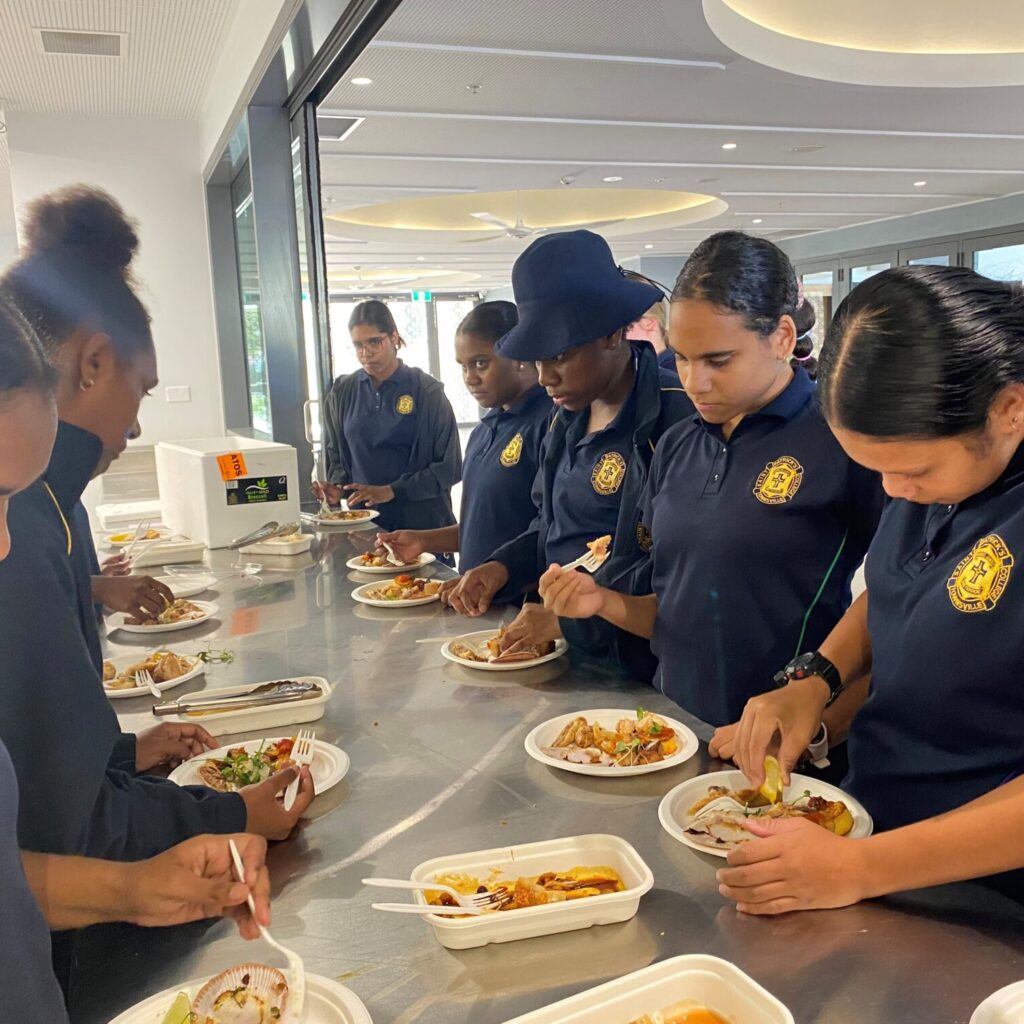 Year 12 students are continuing the module "Celebrations" which develops their knowledge, understanding and skills to plan, implement and critique catering and functions. For the assessment the students trialed entrees, mains and desserts for a simulated Graduation Dinner. They can now professionally set a table and accurate use table etiquette for a formal dinner. To finish the unit, the students will be busy baking cakes and professionally decorating them for a celebration.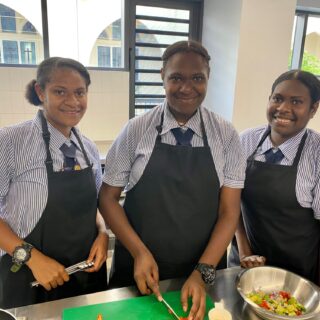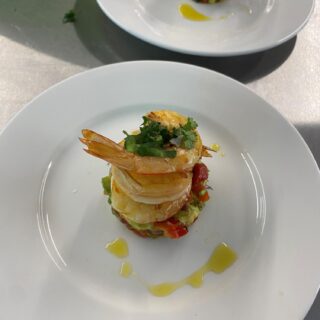 Junior Hospitality Classes are all busy designing foods for upcoming assessments. Year 8 are studying "Multicultural Foods" and researching a chosen culture and creating a dish from that culture. Year 9 have been learning about "Street Food" and will create a pastry dish that is easy to eat and can be served from a potential Food Truck. Year 10 have learnt about the history of a "High Tea" and have been given the task of creating a sweet and savory dish that would be served at High Tea Event. They will be designing an invitation and theme for their event.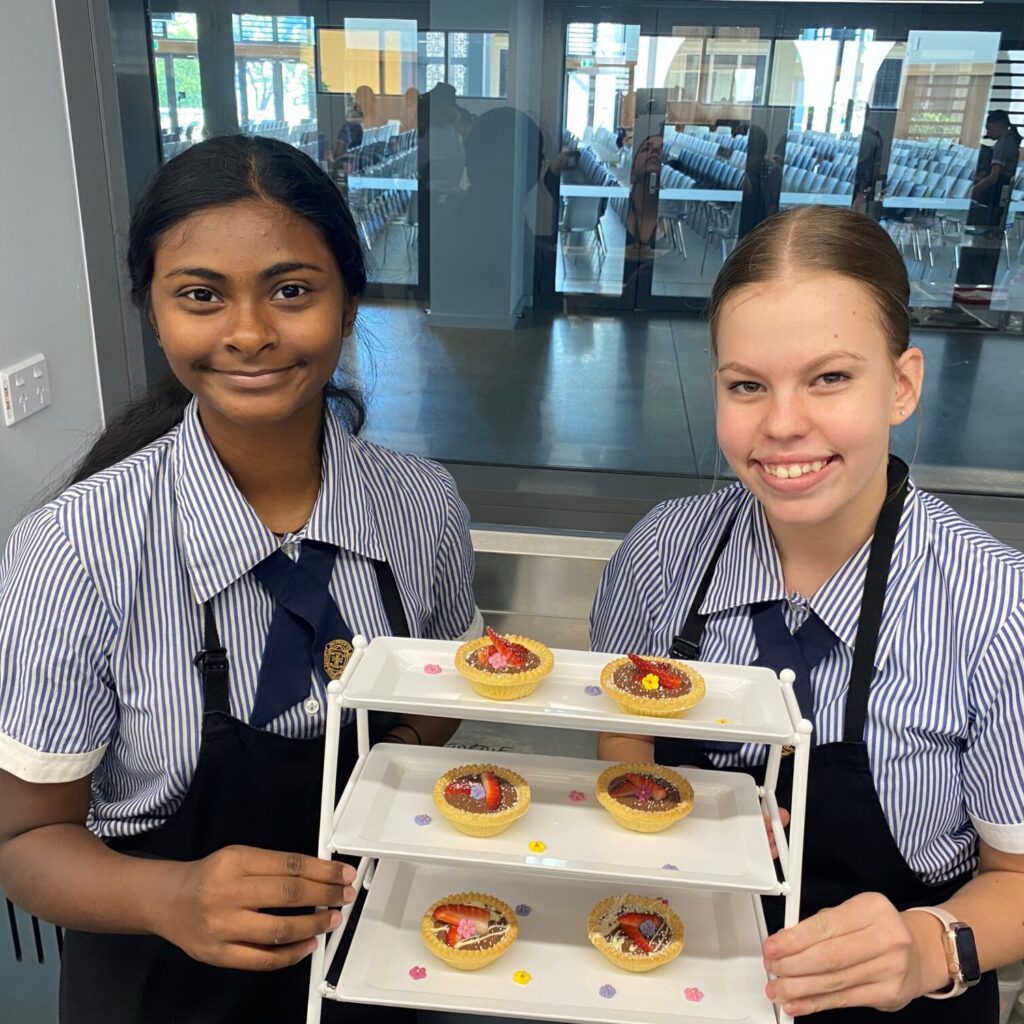 Ms Camille Flores
HEAD OF DEPARTMENT – HOSPITALITY & FUNCTIONS.  E: cflores@stpatscollege.qld.edu.au
SCIENCE WEEK
National Science Week is an annual festival of science which occurs in August each year. St Patrick's College Townsville spent last week celebrating the wonders of Science by participating in a number of activities and events. To get Science Week off to a great start, all PC groups participated in the much anticipated and hotly contested PC Quiz. Every morning, PC groups came together to answer 5 questions about the different strands of Science – Biology, Chemistry, Earth Science, Marine and Physics. Congratulations to Princes 5 (Ms O'Shea) and Doms 2 (Ms Mete) for a nail-biting tie finish. 
On Tuesday, we welcomed 30 students from St Joseph's Kindergarten North Ward to the College. With the assistance of Year 11 students, the Kindergarten class participated in two experiments – Tie Dye Milk and Lava Lamps. They were also lucky enough to visit the fish tanks and observe the Marine ecosystem. A big thank you for St Joseph's North Ward for sharing in our Science Week celebrations with us.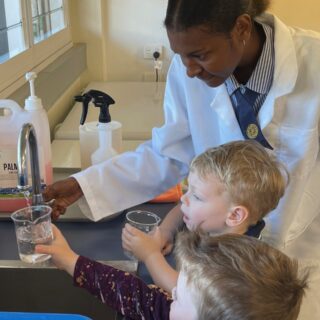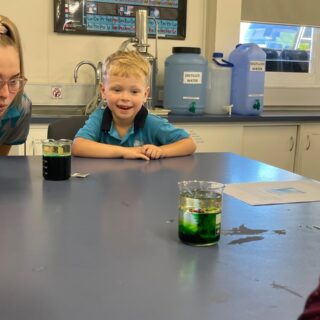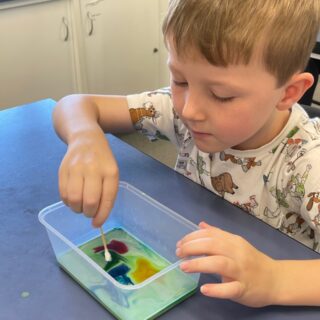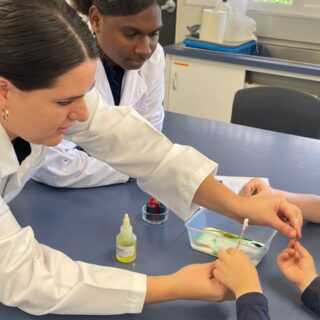 Wednesday saw the whole College gather for our Science Week assembly. During this assembly we watched an inspiration video from the Queensland Women of STEM finalists, who spoke passionately about their journey to their chosen career. We also participated The Big Watermelon Challenge – a nation wide experiment that explores how many rubber bands it takes to explode a watermelon. We needed a whopping 166 rubber bands to explode our watermelon.
On Friday, our Year 11 Marine Science students participated in the Great Barrier Reef Citizen Science Challenge. The class was registered as a team competing on behalf of the College, in order to win some valuable marine resources that can be used to support classroom learning. The activity involved students analysing on a 'Virtual Reef Diver' platform using various images taken from coral reef surveys from Cooktown to Bundaberg. Students identified soft corals, hard corals, sponges, sand elements and algae in each of these images which ultimately helps our reef scientists and managers towards improved coral reef cover modelling and predictions for reef health.
Next year's Science Week theme has been announced and we are already planning an assortment of activities which will engage other faculties.
Mrs Shari Finlay
HEAD OF FACULTY – SCIENCE. E: sfinlay@stpatscollege.qld.edu.au
YEAR 10 ENGINEEERING
Engineers work throughout a product lifecycle, from designing, developing, installation and testing. But who knew that Engineers could solve any problem in the world? Who knew that Chemical Engineers designed the ink that goes into pens? Or who knew that there were sushi bars, supermarkets and an aquarium at James Cook University?
On Tuesday, the 10 Engineering students were fortunate enough to visit James Cook University, in search for all their Engineering questions to be answered; what engineering fields can be studied? what is a thesis? can I study and live on campus? The students were met by the Dr Elsa Antunes and Dr Liyuan Tan who presented engineering opportunities followed by a tour of the campus. They also had the chance to engage with current university students.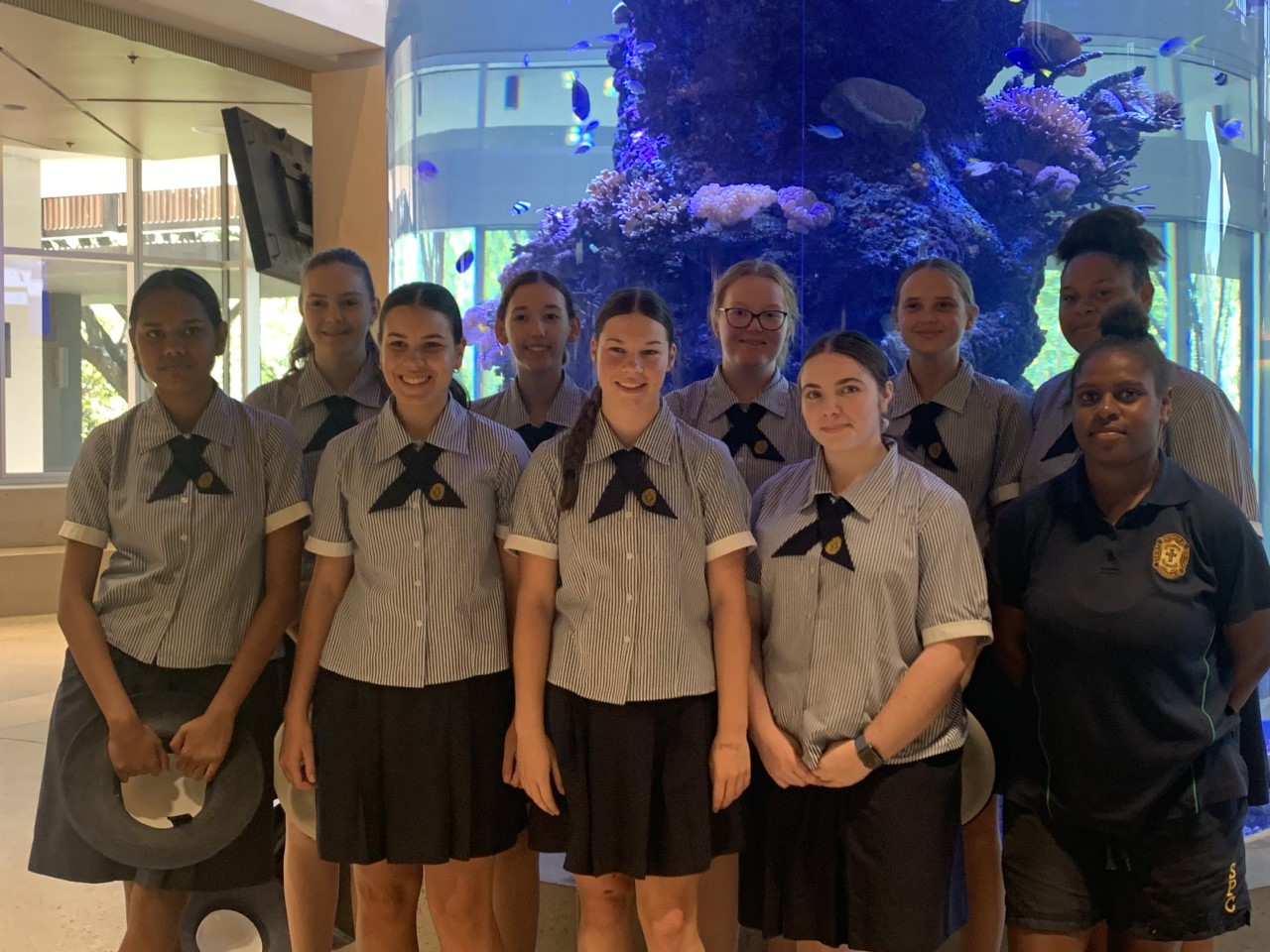 Gayle Walkom
TEACHER. E: gwalkom@stpatscollege.qld.edu.au
MUSIC NEWS
It has been a busy time in the Music department. We have had multiple students and staff participating in the Townsville Choral Society'S production of Charlie and the Chocolate Factory. Lara Stewart, Amelia Betcher, and Bridget Baxter have joined Mr Goulter, Ms Cairns, and Ms Kelly in preparing a choc-tasticly delicious production!
Year 12 students, Chloe Dickinson, Harper Weekers, Oliva Newbould, Sarah Mosch, and Summer Donnelly joined the 2021 Book Week Assembly and performance of Aladdin. All the students practiced some difficult musical cues to welcome in the various characters, as well as showcasing the College's very first Hip-Hop cover!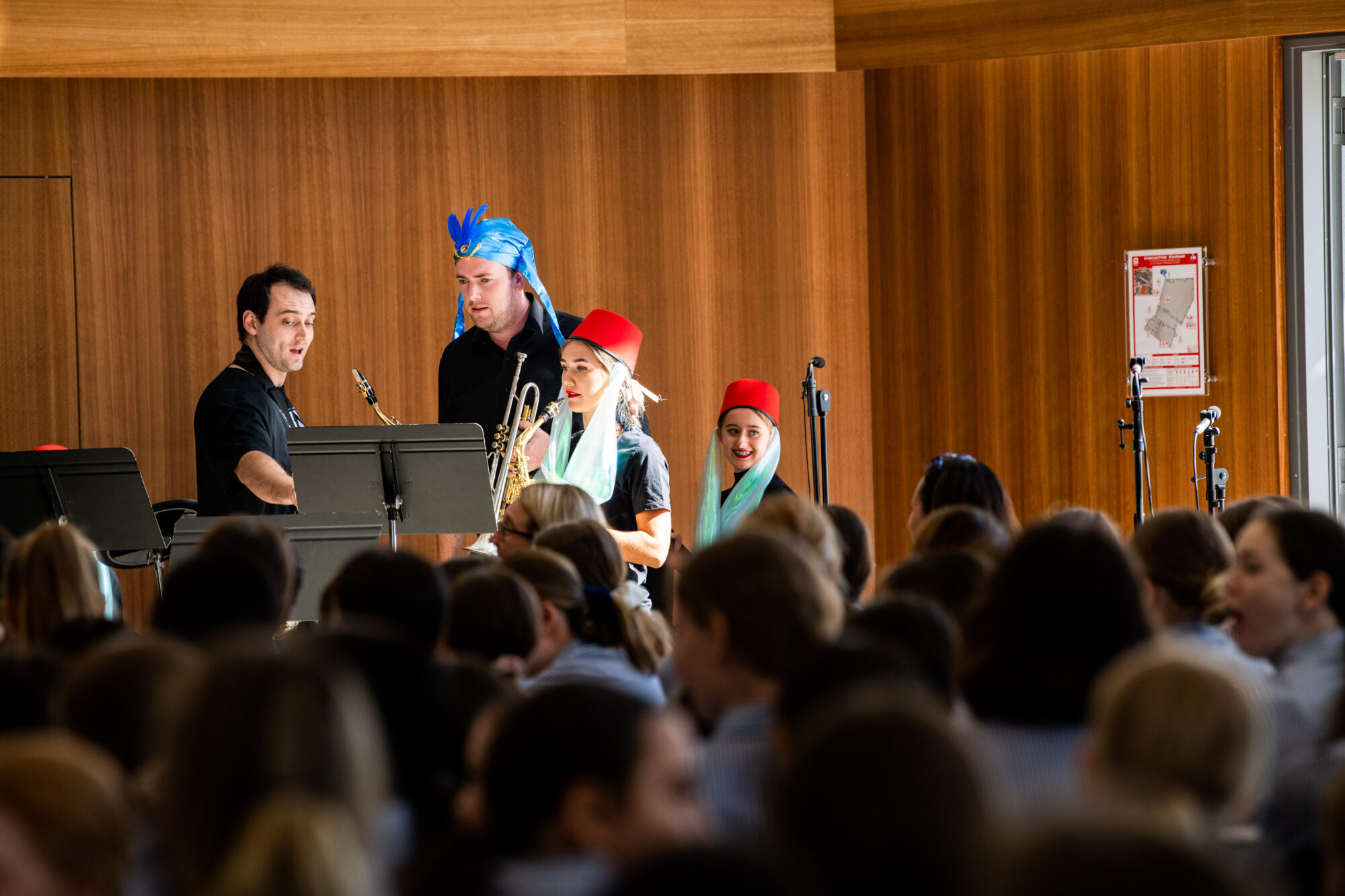 All of the music ensembles are busy preparing for Eisteddfod. We have the largest number of students eve in the choir and all other ensembles are polishing difficult repertoire. My thanks go out to our tireless music tutors; Georgia Martel, Paul Neilson, Rike Wolf, James Jellyman, and Rachel Cairns who are preparing these groups. We will keep families well informed of any Eisteddfod updates and look forward to sharing our results with you soon.
Curriculum classes have been busy with Year 7s exploring the world of Lah Pentatony, year 8s writing parody songs, Year 9s exploring chords and harmony, Year 10s mastering Bebop and Baroque music while the senior students have been covering all types of music from Super Mario to Hamilton to The Beatles.
I would like to that you all for your continued support of your daughter music education and journey. We look forward to sharing more music performances with our College Community in the near future.
Music can name the unnameable and communicate the unknowable. – Leonard Bernstein
Mr John Goulter
HEAD OF DEPARTMENT – MUSIC & PERFORMANCE. E: jgoulter@stpatscollege.qld.edu.au
BOOK WEEK
The College celebrated Book Week in spectacular fashion last week with an assembly performance and a Book Week parade on Friday. It was wonderful to see the College embrace the joy of characters, stories and creativity.
As the Head of English and Languages, I can tell you that Book Week has a special place in my heart. This year, we celebrated the theme, "Old worlds, new worlds, other worlds".
Our world is inundated with news stories of political mishaps, COVID, and Code red for humanity. Our social media feeds are full of ads for things you don't need. Research on the digital lives of Aussie teens claims they spend an average of 14.4 hours a week online. That's approximately the same amount of time it takes to read 1.5 novels, or 80,000 words.
My goal, believe it or not, is not to make anyone feel guilty for the time they spend online, but to help the students in our College see that there is space in their life for other things too. I'd challenge each student to take a couple of those hours each week, and set them aside to read a book that piques their interest.
I'm not suggesting that students should work their way through Charlotte Bronte or Jane Austen's classics, or read Shakespeare's Macbeth (unless in Year 12). I'm asking all students to consider indulging in a book they are likely to love once or twice a week. All of these stories have the same benefits for us as readers. They help us to expand our vocabulary, improve our ability to focus, foster creativity, critical thinking, and most importantly- help us to develop empathy.
At our Book Week assembly, we shared a story from the old world. Chinese in origin, it was added to a collection of Middle-Eastern stories which were published by a French man in 1704. Found in a collection called, One Thousand and One Nights, or The Arabian Nights Tales, but we know it as Aladdin. 
Needless to say, the performance was a success! 
Mrs Amy Plumridge
HEAD OF ENGLISH & LANGUAGES. E: aplumridge@stpatscollege.qld.edu.au