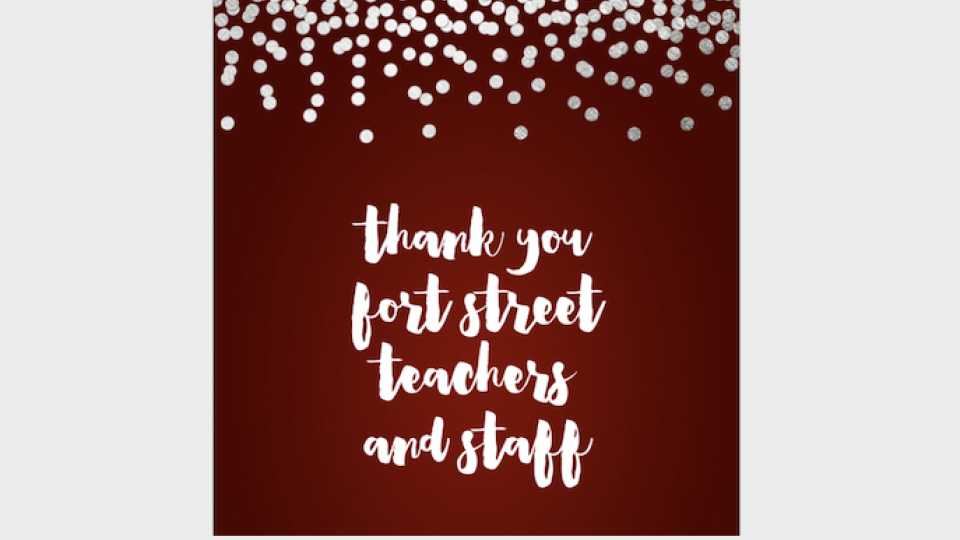 P&C
Thank you Fort St High School Teachers and Staff
The Fort Street High School community feel a great deal of gratitude towards the school's teachers and staff for all the extra work they have done over the past few months of the pandemic. The P&C would like to help express this thanks and also assist the school canteen by setting up a tab at the canteen to allow teachers and staff to treat themselves to a thank you coffee, muffin, sandwich, etc.
Please consider donating to the tab, as much or as little as you like. Even a $5 donation would be awesome. We understand that due to the current economic situation some families will be in a better position than others to donate, so please don't feel obliged to contribute.
If you can help, it's super quick and easy to donate and there is an opportunity to send a message of thanks (you can even include a photograph)
https://www.grouptogether.com/ThankYouFortStTeachersStaff_2
Please feel free to distribute this link among families in the Fort Street HS community.
Second Hand Uniform Stall
Please be advised that as it is still currently recommended by the Department of Education that parents and caregivers avoid school grounds, there won't be any second hand uniform stall during term 2. We will keep you updated on what the situation will be for term 3. As always families who are having difficulty affording uniforms can be assisted and we recommend getting in contact with your child's year advisor for further information on this.
P&C Vacancies
There is one remaining vacancy on the P&C executive and we would encourage any member of the P&C who would like to be more involved to please nominate themselves. The current executive is listed on the school website https://www.fortstreet.nsw.edu.au/community/pc/
Unfortunately our uniform shop representative Tracey Chen has resigned from the Uniform shop representative role. We would like to thank Tracey for all her help and support over the past 18 months in liaising between the P&C and the uniform shop and in keeping the uniform shop roster up to date.
Happily in the interim Suzanne Trimmer has agreed to temporarily fill this role, but we are seeking a nominee to fill this role in term 3 and into the future. Traditionally the role involves liaising between the P&C and the Uniform Shop Manager. Some availability on a Wednesday to visit or work in the Uniform shop is desirable but not essential. The representative is required to present a brief written report at each general P&C meeting.
Please email the P&C at fortstreethighschool@pandcaffiliate.org.au if you are interested in either of these roles or have any further questions about what is involved
Staying Up to Date
If you would like to be informed about P&C activities or would like to know how you can get involved, please subscribe to our mailing list at http://eepurl.com/cXWaEX or join our Facebook group at https://www.facebook.com/groups/fortstreethighschoolpandc/ As always our email address is fortstreethighschool@pandcaffiliate.org.au