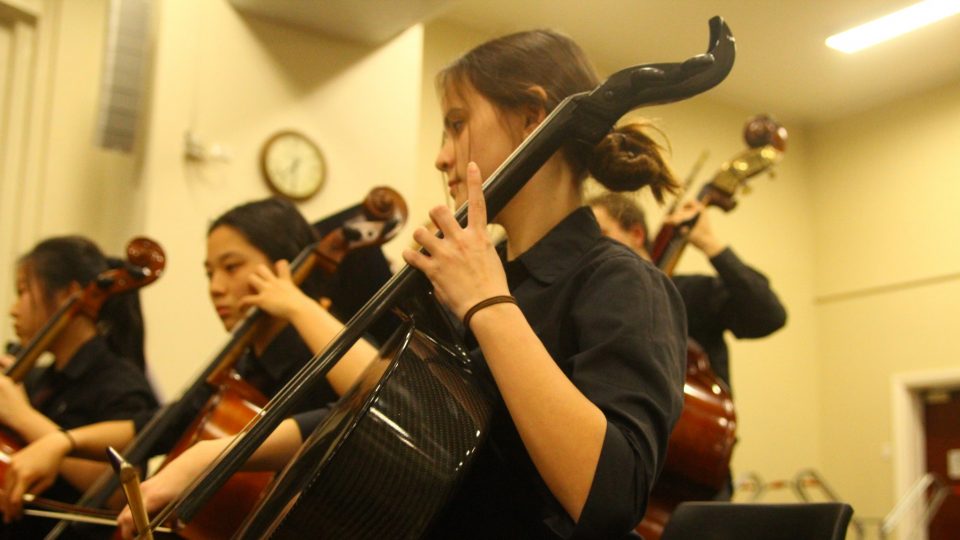 Instrumental Music Program
Bigger Better Brains​
Dr Anita Collins has this week launched the "Get your Bigger Better Brain at home" series, designed for you share directly with parents. They have produced these activities in direct response to the COVID-19 pandemic and the move to at-home learning for an extended period of time. Every day for the next two weeks they are releasing daily activities to emphasis the importance of continuing to engage with music at home. Engaging with this resource will help parents prepare for the challenge of guiding their children through home learning with our new daily activities. This is all research-based neuroscience and psychology. It is wonderful stuff and I cannot recommend it highly enough!
Strike A Chord goes digital in 2020 with an exciting online edition of the competition.
Musica Viva Australia and their dedicated Strike A Chord team have been looking into new and exciting ways to carry on with the 2020 competition.
More information can be found on the Musica Viva website here
IMP Online
The IMP has moved to 100% online activities. Each week I will be sending an email out linking you to the activities for that week. We also have an online attendance form to track how well you are all engaging in the activities set. These activities are looking at repertoire (looking forward to returning to regular rehearsals), but also 'soft skills' such as sight-reading, general musicianship, wider listening, score reading etc.
Your conductors and IMP staff have been working extremely hard to curate these activities. Your engagement with them, along with maintaining daily practice sessions, will ensure you emerge from this a stronger musician than you went in. Please check your emails each Wednesday for your IMP weekly activities and if you are not receiving emails, please contact Mr Manchester ASAP.
The IMP is looking into the feasibility of having a massed virtual ensemble recording. A kind of Camp Item in Quarantine, if you will. If we get this off the ground with our limited resources, we may need to outsource some of the editing work to you, our talented students. Watch this space in the coming weeks…
Schools Spec Cancelled
Unfortunately the 2020 Schools Spectacular has been cancelled. You can read the statement from the Arts Unit here:
https://www.artsunit.nsw.edu.au/schools-spectacular/how-be-involved
IMP Community Spirit Helping Professional Musicians
I am sure everyone is aware that this has been a particularly trying time for freelance musicians here in Australia and around the world. The term 'canary in the mine' at the start of this crisis was an apt description. Most musicians have seen 100% of their performing income vanish for the next 6 months. For many musicians, the teaching income they rely on has also been taken away, in a series of baffling decisions by various institutions. In true Fortian style, the IMP is working hard to take care of our wonderful staff, who work so passionately to the musical education of our kids. I have been overwhelmed by the messages of support from the IMP community. When the IMP Camp was cancelled I asked if any parents who were in a financial position to do so, donate some or all of their camp refund to help pay the camp staff at least some of the fees they would have earned on camp. The response went far beyond my expectations, and in the end we were able to pay a significant percentage of the fees to the tutors. I received many email from the tutors thanking the IMP community for being a shining light in the industry. On behalf of all IMP staff, heartfelt thanks for your support, and for the reminder that we are all in this together. I have never been more proud to be part of this wonderful organisation!
Matt Manchester