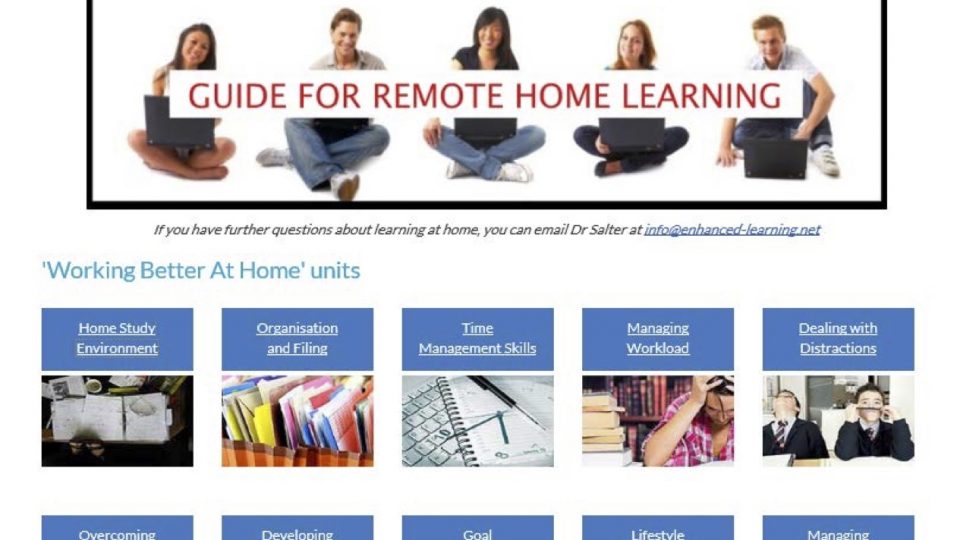 Online Study Skills Handbook
Each year the school invites Dr Prue Salter, Educational Consultant and Study Skills expert to run seminars for students and parents in Years 7, 10 and 11. While it is highly unlikely that these seminars will go ahead this year, the school also subscribes to Dr Salter's Enhanced Learning Online Study Skills Handbook.
For students and parents who have never explored this valuable site before, now is an excellent time to do so. The site has recently added a Guide for Remote Home Learning that includes a wide range of tips and resources for the current remote learning situation, from setting up your space at home, to templates for daily checklists and strategies for maintaining focus at home.
In addition to the Guide for Remote Home Learning, there are many other interactive, self-paced modules on topics such as Dealing with Distractions, Overcoming Procrastination, Managing Stress, Using Technology, Research and Presentation Skills that students will find useful both in the current situation and when they return to classroom-based learning at school in the future.
The school encourages all students to make use of this excellent resource, from Year 7 students who may be adjusting to the workload of high school, to Year 12 students looking to maximise the efficiency and effectiveness of their study for assessment tasks.
Login details for the online handbook have been emailed to parents and students separately. Please contact the school if you would like these details re-sent.
Joel Morrison
Deputy Principal