The Email View is an alternative layout for the newsletter specifically for sending out via an email campaign.
Including Articles in the Email View
By default, all new articles will automatically be included in the Email View.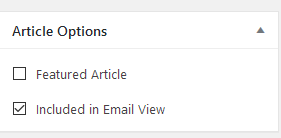 You can choose which articles you want included in the email using flags on each article. Edit the article you want to remove from the Email View and uncheck the Included in Email View field. For more info, see Article Options.
Alternatively you can change this option using the Quick Options on the Newsletter edit screen.
Articles will be displayed in the Email View in the same order that they appear on the Index Page.
Previewing the Email View
The Email View is accessible from a link in the admin bar when logged in.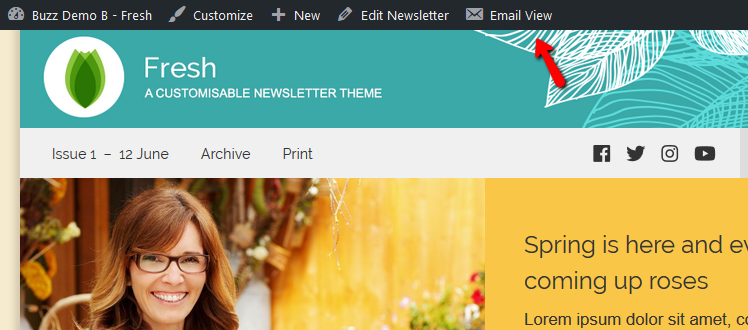 Sending via email campaign
The Email View can be used in conjunction with our Campaign Monitor Add on and the Mailchimp Add on to easily send out the newsletter on those platforms.
You can also send out the Email View with any email marketing platform that supports importing a campaign via a URL – check with your platform provider to see if they support this function. If they do, simply open the Email View and copy the URL, ready to import.
Unsubscribe Link
The Unsubscribe link is a mandatory inclusion on the Email View under Australian law and most email campaign platform policies.
To add an unsubscribe link, go to Settings > Email View Settings and add the link to the field. Most platforms will have a unique piece of code to use here (some of the more common ones are listed on the settings page). If you're not sure, follow up with your provider to find out which format they expect you to use.