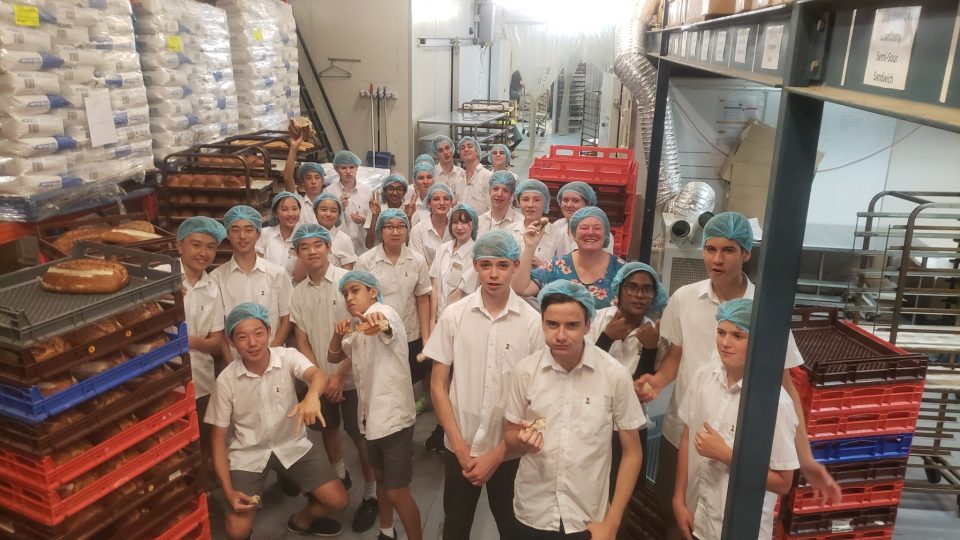 The Bread and Butter Project
On Wednesday of Week 5, myself and 25 other Fort Street students from years 9 to 11 visited the Bread and Butter Project's factory in Marrickville to learn about and better understand the Project in preparation for our Duke of Edinburgh volunteering with them.
The Bread and Butter Project was first established in 2012 and it is Australia's first wholesale, artisanal bakery and social enterprise that invests 100% of their profits into helping shape the lives of those seeking refuge and asylum. In other words, the Bread and Butter Project is a not for profit bakery that aims to retrain refugees on humanitarian visas over a 6-8 month period as bakers so that they can find jobs in Australia. As a part of this program, each refugee who graduates will receive a TAFE accreditation as a Certificate II Baker, learn practical baking experience by working side by side with professional bakers at the Bread and Butter Project Factory and Harris Farm bakeries, receive one on one English tutoring from volunteers and support from a professional social worker, and a job is found for them at the conclusion of their training program with a professional bakery.
Fort Street was given a tour around the factory where they produce approximately 500 loaves of bread each day, as well as pastries and other delicacies. We visited the fermentation room where the starter is fed daily (the room had an overpowering smell of yeast), the area where they mix the doughs, form the bread, bake it and pack it, ready to be transported to various locations such as cafes, Google offices and Harris Farm. There were many different industrial sized machines in the bakery including massive, walk in ovens and fridges and a waist height mixer. We all tasted some delicious, warm, freshly baked bread and we were taught how to form the dough into the bread shape – it is a lot harder than the bakers make it look!
Overall, Fort Street had a wonderful time learning about the bakery, what they believe in and their goals for the future, hence we are excited to start volunteering with them. Our jobs as volunteers will be to promote their bread in Harris Farm Leichhardt by going around and offering the public samples of the bread, telling them about this amazing project and encouraging them to buy the Bread and Butter Project bread instead of a different, possibly cheaper type of bread.
So far, the Bread and Butter Project has been very successful as a wholesale bakery but they are finding it harder to sell their bread in grocery stores because it is more expensive than mass produced bread. I am very excited for this volunteering opportunity to begin because I believe that the Bread and Butter Project is a truly amazing program and I would love to help them grow as a company.
To conclude, I would like to say thank you to the wonderful volunteer, Danny, who showed us around the Bread and Butter Project factory, told use about the project and answered all our questions. I encourage the entire Fort St community to go to Harris Farm Leichhardt and other cafes that stock Bread and Butter Project products and try the delicious Bread and Butter Project Bread.
Jess Lovatt, Year 11, Bread and Butter Project student leader