Deputy Principal – Academic

Welcome to our new and returning students and their families.  As we come to the end of Week 3, I am hoping our students are now confident with their timetable, class teachers and peers. By now, students should be able to access our College network and IT services, including: emails, printing and the Learning Hub.  2021 aims to be a rewarding year for our students, particularly with the new curriculum junctures that have been introduced across all year levels. New subjects give students wonderful opportunities to continue to learn and discover their passion. 
I look forward to working closely with our students and their families in all areas of the curriculum to ensure that students are fully supported to achieve their academic goals.
Scholars' Assembly
We welcomed back some of our 2020 graduates for our annual Scholars' Assembly. As a College we celebrated their hard work, academic success and invited them to share their future plans and post-schooling pathways. The 2020 scholars reminded current students that they did not achieve their goals by chance. They used their commitment to harness and use their energy in an intentional and purposeful way.
The assembly also included the presentation of the 2020 College Dux and Proxime Accessit. 
Awarded to the student with the highest ATAR, The Rosa Pullella College Dux was Emily Shaw, pictured here with the Dux shield.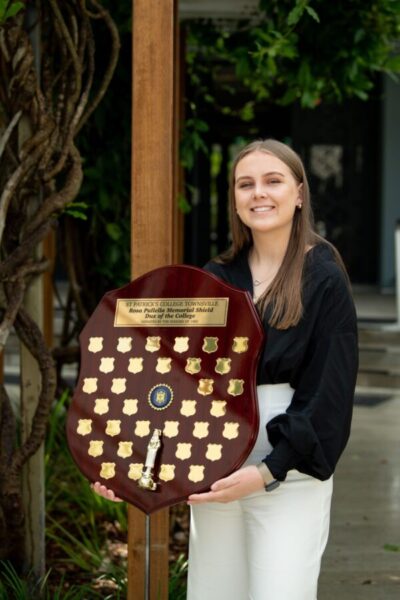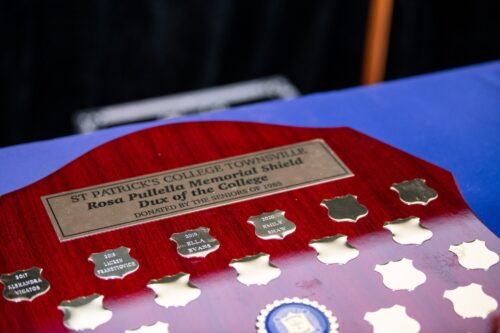 We congratulate Emily on her outstanding academic achievement.
Awarded to the student with the second highest ATAR, The St Patrick's College Townsville Proxime Accessit was Erin Chin.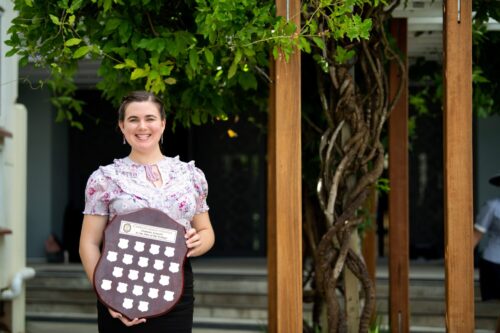 Emily and Erin were joined by Tamarra Woods who received a James Cook University Rising Star Scholarship. Like Emily and Erin before her, Tamarra participated in the long held tradition of signing the Scholars' register.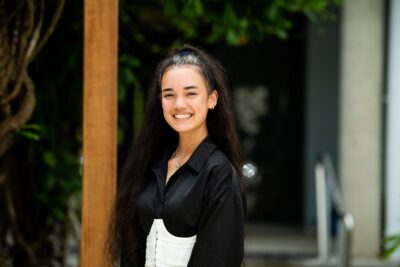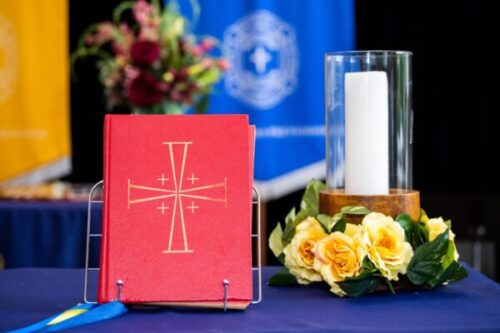 Alyssa Mills and Kalani Guillien, already studying in Brisbane and Sydney respectively, joined us remotely. Each spoke eloquently and passionately about their hopes for the future showing, once again, what wonderful role models they are. Their immediate future looks like this:
Emily Shaw – Bachelor of Politics, Philosophy and Economics at the University of Queensland.
Erin Chin – Bachelor of Creative Arts and Japanese Linguistic Studies at the University of South Australia, deferred to begin in 2022. In 2021, she will be completing a Certificate in Business and a course in Korean. 
Tamarra Woods – Bachelor of Science majoring in Cell and Molecular Biology at James Cook University after receiving a James Cook University Rising Star Scholarship.
Alyssa Mills – Bachelor of Biomedicine at Griffith University.
Kalani Guillien – Diploma of Musical Theatre at Brent Street Sydney in 2021. Kalani has been accepted into both a Bachelor of Creative Industries at Queensland University of Technology and a Bachelor of Arts/International Studies at the University of Sydney, but has deferred these until 2022.
A video recording of the Scholars' Assembly can be viewed by College families.  It can be found on the #StayingConnected tile on the Learning Hub by following this link: https://learninghub.stpatscollege.qld.edu.au/homepage/3430
Senior Studies Information Evening
The Senior Studies Information Evening for students graduating in 2022 and 2023 (current Year 10 and 11 students) will be held in the Auditorium from 5.30pm to 6.15pm on Tuesday, 23 February.  The presentation will discuss a range of topics including:
The QCE System.
The ATAR system in Queensland.
The changes in assessment including internal and external assessment.
Parents will be required to register their attendance via trybooking.  Students who attend will be required to wear their College academic uniform.
If you are unable to attend, a recording of the presentation will be made available on the College Learning Hub after the event.
Tutoring Schedule
Teachers at the College provide a range of tutoring opportunities for students, including before and after school and during lunch breaks.  The tutoring schedule for Semester 1, 2021 is located on the College website (add link) and has been emailed to parents and students.  As well as this document, students are encouraged to speak to their teachers for alternative tutoring times.
Study Timetable
With students receiving their Timetable, Assessment Calendar and the Tutoring Schedule, they can now begin to plan their study timetables.  It is important that students have a regular routine and implementing effective procedures early in the year.  On pages 113 – 114 of the College Diary, further information regarding study including appropriate places to study, time management, organisation, sleep habits and balance.
The following pages of the College Diary are also useful in assisting students to plan their time:
Term One Planner – Page 10
Term One Assessment Tasks – Page14
Term One Study Planner- Page 18
As a general guide for students and parents/guardians, the following average times per day are suggested for each year level for homework/study:
Year 7 – 30 minutes to 1 hour
Year 8 – 1 ½ hours
Year 9 – 2 hours
Year 10 – 2 ½ hours
Year 11 – 3 hours
Year 12 – 3 ½ hours
Year 11 ATAR Preparation and Support Program
On Friday, 29 January, Elevate Education presented to the Year 11s students. This semester's focus was on providing effective strategies for study habits and time management. Elevate Education will return later in 2021 with a focus on memory mnemonics and exam preparation.