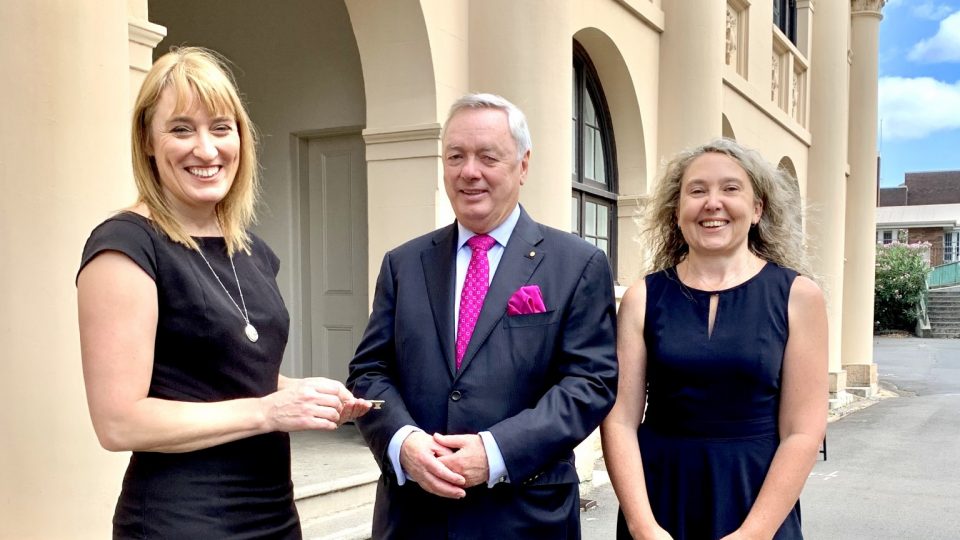 From the Archives – 45th Handover Anniversary
In December we commemorated the 45th Anniversary of the 'Handover of the Keys'. It was this week in 1974 when the principal for Fort Street Girls School, Ms Evelyn Rowe, handed over the keys of the school to the new custodians of the historic Observatory Hill buildings to the National Trust Australia (NSW). Although a sad time for many, leaving their dearly loved school site, it was also a positive move to safeguard the nationally significant buildings from developers at the time.
The Fort Street Archives team commemorated the event in conjunction with the launch of the new Fort Street Tours app. Fort Street Archives was successful in gaining a grant through the 2018/19 Inner West Council Community History and Heritage Grants program. This funding was used to establish a free heritage tour app to communicate the history and heritage of Fort Street. The new app, found on the Apple App Store and Google Play, creates an easily accessible digital environment to protect, preserve and communicate nationally significant history and contributing to the national memory.
The Fort Street Tours app has three downloadable tours available. One is for the historical spaces of the current Petersham site. Another one is of the many Honour Boards dating back to 1890. The final one is of the Observatory Hill site – this was achieved due to the work done by one of our volunteers, Sandra Funnel (Class of 1961) who received her Premier's Volunteer Recognition Award, and our partners at the National Trust of Australia (NSW).
At this week's Handover Anniversary we heard about the ongoing partnership with the National Trust Australia (NSW), the Fort Street legacy, current school accomplishments and the Fort Street Archives achievements. As in 1974, there was a re-enactment of (left to right) the CEO then President of the National Trust being handed the keys to the school by the Principal. Fast forward to 2019, pictured left to right is Debbie Mills, CEO of the National Trust (NSW); Neil Wykes OAM, President and Treasurer of the National Trust (NSW); and Juliette McMurray, Principal, Fort Street High School.
The new Fort Street Tours App is available at the App Store and on Google Play. Download Fort Street Tours for Apple HERE or for Google Play HERE
Iain Wallace – School Archivist
Links:
Apple
https://apps.apple.com/us/app/fort-street-tours/id1470021496
Google
https://play.google.com/store/apps/details?id=com.mytoursapp.android.app1782