To remove a user from having access to your Newsletter, go to Users and hover over the entry in the user list and click the "remove" link.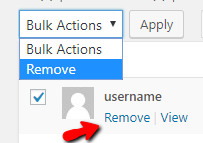 Alternately, if you wish to remove multiple users at once you can tick the box next to each user and select "Remove" from the "Bulk Actions" menu. Click "Apply" to complete the process.
User are removed, not deleted
Users may belong to multiple sites on the Buzz network, so it is not possible for you to delete a user entirely. Removing the user means they can no longer log in to that specific newsletter's dashboard. If you are the owner of multiple Buzz sites you will need to remove the user from each of your sites. If you need a user deleted from the system entirely please get in touch with us and we can do that for you.
If you need to completely delete a user, please get in touch with us via support and we can delete the user for you.