List Users
To access the user controls, login to your WordPress dashboard and click the Users menu to view a list of your current users.

Removing a User
A user no longer needs access to your Newsletter, you can remove their account. See Removing/Deleting a User for more information.
Changing A User's Role
To change a user's access level or role, go to the user list and tick the box next to the user(s) you wish to reassign. You can select more than one if you wish to do this to several at once.
Select the desired role from the box labelled "Change role to…" and click "Change" to complete the process. Please note that you can not change your own role.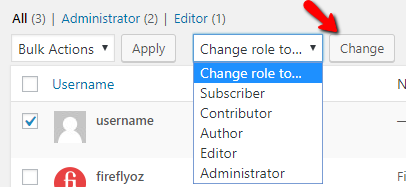 You can read more about WordPress roles here.