To access the user controls, login to your WordPress dashboard and click the Users menu. Here you can click Add New to add a new user account to your site.
There are two forms presented on this page – one to add an Existing User and one to add a New User.  If you have one or more Buzz websites, and the user you want to add already has a login for one of them, then you'll choose Existing.
Most commonly you'll want the New User form.
New User
WordPress requires a unique username for your new user. A good starting point is the users's first and last name with no space in between. For example janesmith or johncitizen.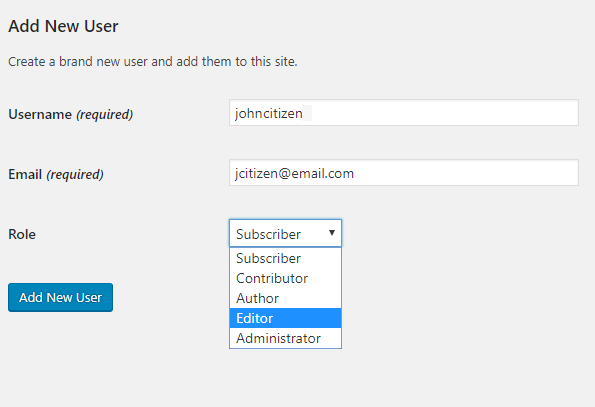 The system will tell you if the name is already taken. If it is just add alter it or add a number to the end. For example jane-citizen1.
You can also select the level of access that the account has at this point by changing the role. Read about the available roles here.
Existing User
To add an existing user (one who already has a login to The Buzz) just enter their email address and select the role to determine how much access the user should have. Read about the available roles here.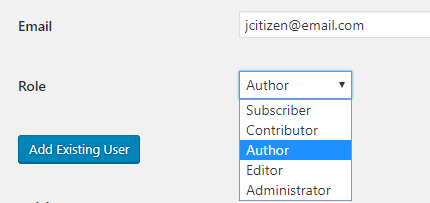 Confirmation Email
Whether you add a new or existing user, the system will send an email to the user with an invitation to join your site. The email will contain a link which they must click in order to become active. If the email does not come through in a few minutes, please ask the user to check their spam and junk folders.
If the user was newly created, the activation page will also generate a password for them and show it on screen. They can change their password later if required.