Once you click publish on a piece of content (newsletter or article) then it's available for your readers to view. If you've accidentally published something that shouldn't yet be"live" you can easily revert it to draft mode by following the steps below.
While editing the article in question, take a  look on the right hand side at the the Publish box. You will see a line labelled "Status: Published" with an edit link next to it.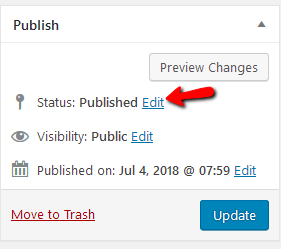 Click the edit link and choose Draft from the select box, then click OK and Update. Now it's back to being a draft!