Images can be inserted into an article by clicking the Add Media button above the editor.
In the pop-up, upload a new image or select one from the Media Library.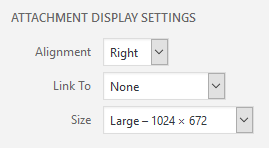 Make sure to check the Attachment Display Settings before inserting your image. This section gives you control over how the image will be shown on the page. Alignment lets you float an image to the left or right and have text wrap around it. Selecting center will centre the image and prevent text from wrapping.
Link To lets you link the image to a URL and Size gives you control over the size of the image.
Click Insert into page once you're happy.