A PDF can be added to an article in much the same way as Adding images

PDFs, like images, can be inserted into an article by clicking the Add Media button above the editor.
In the pop-up, upload a new PDF or select one from the Media Library.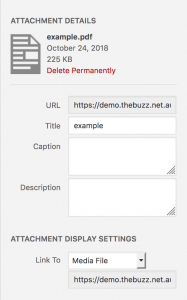 Make sure to check the Attachment Details and Attachment Display Settings before inserting the link to your PDF. This section gives you control over how the link will be shown on the page. Title lets you define the text your link will use. Caption and Description are just used to provide extra information to the browser and are not used for display (okay to leave them blank).
Link To lets you choose where to link to your PDF. Typically you always want this to be Media File.
Click Insert into page once you're happy and your PDF will be displayed as a text link.