Message From the Principal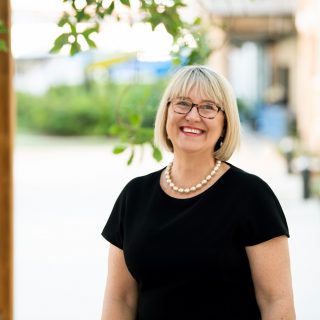 Last week we sadly farewelled our 2020 Year 12 cohort. We thank this incredible group of young women for their patience, determination and grace, leading our College through an extraordinarily challenging year. I spoke last week at their Valedictory Mass encouraging them to take care to nurture their dreams, giving the people they love and share their journeys with the permission and courage to do the same. On behalf of the College we encourage our 2020 Year 12 graduates to Dare to Imagine their future, living a life of purpose, passion and always standing strong on their principles. I also extend my gratitude to the families of this cohort for letting us share this part of your daughter's journey with us.
This week at our End of Year Liturgy, we also farewell some staff members, sincerely thanking them for their dedicated service to our College and wishing them well as they begin their next adventure.
Mr John Gilmore, Director of Performance, Planning & Analytics, is relocating to Sydney for a promotional position.
Ms Megan Christie, Director of Boarding is relocating to Brisbane.
Ms Lisa Mowbray, Head of Princes House to take up a nursing & education role.
Ms Harriet Geater-Johnson, Head of Visual Arts & Exhibitions is moving back to South Australia.
Ms Lizzie Wood, Head of Year 7 has relocated to Brisbane.
Ms Zoey Fellows, Head of Faculty Religion.
Dr Jay Burmeister, Head of Department – Digital Literacy.
Ms Sandra Tangata-Toa, Teacher is relocating to Sydney.
Ms Colleen Finney, Science Lab Assistant begins her retirement.
Mr Phil Oram, Part-time Teacher begins his retirement.
Mr Campbell, Part-time Teacher who has helped us out on a contract this year also begins his retirement.
Ms Merle Iles, Part-time teacher who has been on a contract in Term 4 while Mrs Nioa took some leave is moving back to Victoria.
I am really looking forward to welcoming and introducing our new staff members to the College family in January 2021. I am also thrilled that a number of staff have been promoted internally, showcasing the incredible talent and skill we have in this College. It is certainly a dynamic and inspiring professional learning community to be a part of.
I would also like to take this opportunity to thank Sr Helen Mary Peters, College Board Chair and fellow Board Directors Steven Mosch, Peter Cavallo and Tia Cox for their unwavering support as I carried out my first year as College Principal. I have felt incredibly blessed to have their support along with an incredible Leadership Team, College Staff, the inspiring young women of this beautiful College and their respective families. My vision at the beginning of this year was to strengthen relationships and nurture community connections and despite the challenges of COVID-19, I feel this has been achieved. I feel honoured and humbled to serve and lead such an incredible place. I am very excited about the new Towards 2025 Strategic Plan and the Dare to Imagine Campaign and how these will bring to life the unique difference this College provides for young women in inspiring us to continue to grow and flourish.
I wish you all a safe, restful and loving Christmas period. I hope you are all able to spend quality time with family and friends and I look forward to seeing everyone back for the new year refreshed and renewed in 2021.
May God bless you and your families.
Amber Hauff
College Principal