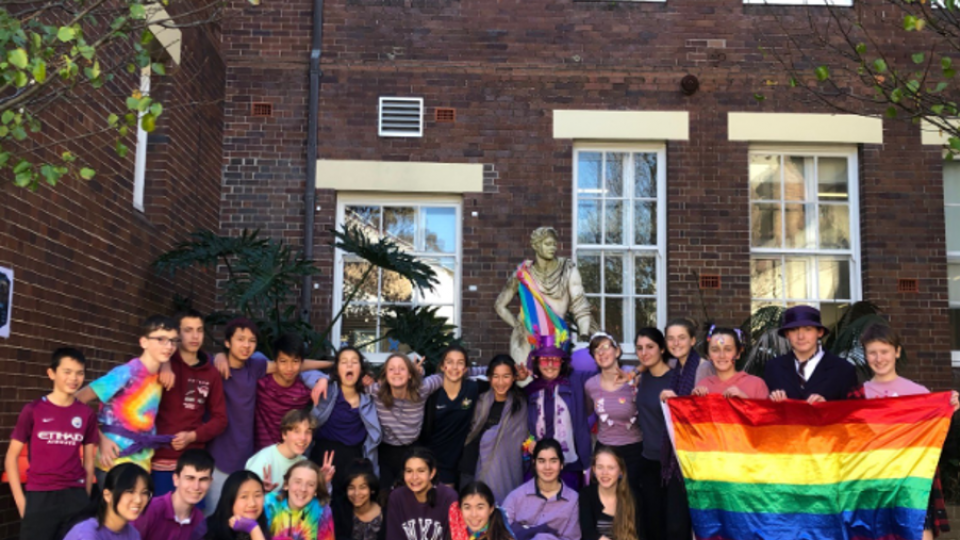 Wear It Purple Day
The FSHS SRC organised a variety of events and presentations for the day. This included Jonathan and Galileo's speech to Year 9 and Year 10 students introducing Wear It Purple Day:
Speech from SRC Representatives
'Wear it Purple Day' was started in 2010 by Katherine Hudson and Scott Williams after several LGBTQIA+ teenagers took their lives. This was a result of them being bullied and harassed for their gender identity or sexuality. The aim of WIPD was to show LGBTQ+ people around the world that they are not alone and that there are people who support them and that they should be proud of who they are. The four focuses of WIPD are: advocating for and empowering LGBTQ+ people, celebrating and promoting the value of inclusion in all communities, raising awareness about sexuality and gender identity and challenging harmful societal expectations and championing LGBTQ+ role models to help young people establish confidence in who they are.
Wear it Purple Day's theme this year is We Are The Change. It makes a point about how if we want to see change in the world, we must begin by changing ourselves. It encourages us to actively include LGBTQ+ people in our groups and communities so we can work towards their generalised acceptance in society. LGBTQ+ people exist in all spaces. They are part of your religious group, your online communities, your school, your club, your friend group, your family. LGBTQ+ people don't have to be visible to hear homophobia or transphobia and they don't have to be visible in order to be hurt by what you say about them. 16% of LBGTQ+ teenagers in Australia have reported attempting suicide, 27% of bisexual teenagers have reported having attempted suicide. 48% of transgender and gender non-conforming teenagers have reported attempting suicide and 8% of gay and lesbian teenagers have reported having attempted suicide. This makes LGBTQ+ teenagers five times more likely to take their own life than non-LGBTQ+ people and makes transgender teenagers eleven times more likely to die by suicide than non-transgender teenagers. The effects of bigotry can have deadly consequences, making it vital that you support the LGBTQ+ people around you. LGBTQ+ people deserve your love, your respect and your support as such as anybody else. So please, I implore you to make an effort to be more inclusive of them in your daily life and try to support your LGBTQ+ friends, family and classmates as much as possible, thank you.
By Jonathan Bonnice and Galileo Lima
More information about Wear It Purple Day can be found here.
Fort Street High School was amongst the first public high schools to support Wear It Purple Day and Fortians have been members of the NGO since its inception.
Environment Committee
Students in the Environment Committee wanted to celebrate diversity and show that school is a safe place by beautifying the Fort Street School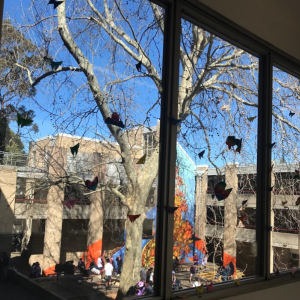 environment for the day. This included a chalk rainbow cross walk to welcome students to the school as well as posters and signs. Meg Raven and Jordan Mai led the chalking efforts. While Mary Koutalianos led a group of her friends to make over 500 origami cranes and butterflies as decoration for the fountain quad. The origami shapes were chosen  as symbolising hope and well wishes for the future.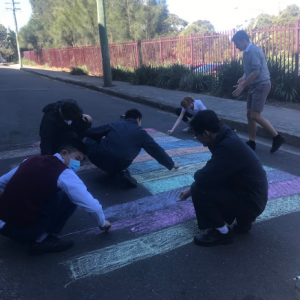 Meg Raven (third right) and Jordan (second left) led year 10 and 9 students of Environment Committee to create the rainbow crossing. Some of Environment Committee members are also completing their Duke of Edinburgh awards providing services to the school environment and promoting sustainability issues.
Amnesty International FSHS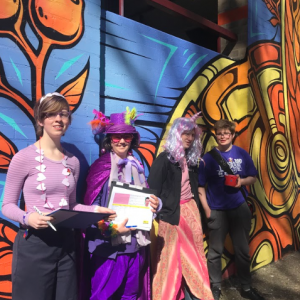 The Amnesty Committee led by Elysia Castillo and Anja Clausius (facilitated by Ms Maddox) presented a variety of petitions to raise awareness of international LGBTQI humanitarian issues. Hundreds of signatures were collected in support of issues promoted by Amnesty International.
Social Justice Committee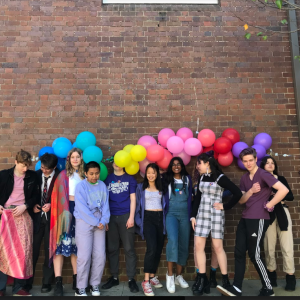 The Social Justice Committee was responsible for collecting funds for Wear It Purple Day. The Social Justice Committee would also like to invite online donations to Twenty10 which is a counselling service for at risk LGBTI people and provides assistance with wellbeing and housing. Our school Wear It Purple Day organiser Mr Semaan identified the organisation as an important cause. Our Deputy Principals Mr Morrison and Ms Cameron encouraged students to wear purple and consider making a gold coin donation to support this NGO. The school raised $823 from student and staff donations on Wear It Purple Day. The funds have been donated to Wear It Purple Day in support of their critical work. The Social Justice Committee is a newly formed organisation founded by Barisha Tashnin of Year 10. Committee members have helped raise funds for a range of causes promoting multiculturalism and diversity. The committee is passionate about promoting a positive school culture that is counters the semantics of division, exclusion, racism and homophobia.
Ms Penniment (Teacher Librarian) and our wonderful library staff set up a special display of Wear It Purple Day books to celebrate the occasion. The Australian Government Department of Education, Skills and Employment Australian Student Wellbeing Hub recommends displays of LGBTQI literature in school libraries to help make diverse students feel safe and welcome in schools. The Library, with the assistance of our tech wizard Mr McGeachie, also hosted the year 10 Wear It Purple Day guest speaker Zoom.
Staff, Teachers, School Executives & Wellbeing Team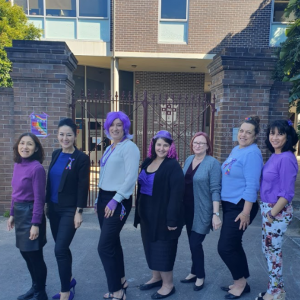 Fort Street High School has a long history of celebrating Wear It Purple Day, having held the event since 2011. In 2020 the event was organised by Head Teacher Technology Mr Semaan and overseen by Deputy Principal Mr Morrison. Our Deputy Principal Ms Cameron provided student prizes in support of the event and our Principal Ms McMurray stirred the competitive staff spirit with her outstanding purple outfit. Year 9 Adviser Mr Guy and Year 10 Adviser Ms Xu facilitated Zoom video conferencing with guest speakers from Wear It Purple Day. We would like to thank the P&C and Inner West Council putting us in touch with guest speaker Jody Toomey. Jody answered student questions on how to be a goody ally, the value of diversity in society and how industry views diversity in the workplace.