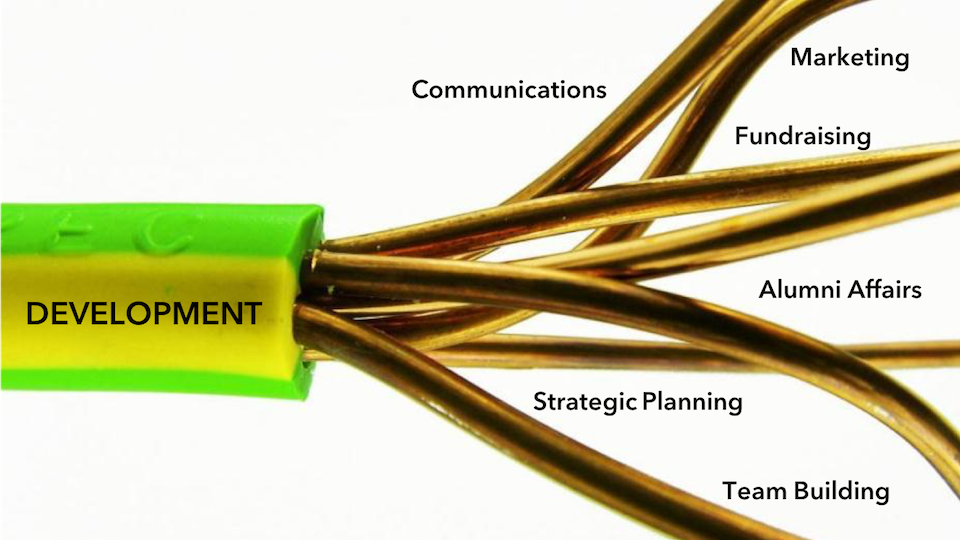 Are You Making Progress and Moving Forward?
A very happy new year to you. A new year can bring a feeling of freshness and possibility, and that is my wish for you. I also hope that this year is one of growth, both personal and professional.
Many, if not all, will be aware that Educate Plus is a network of advancement professionals from the education sector within Admissions, Alumni and Community Relations, Fundraising, Marketing and Communication. But what are the synergies and why are they grouped under the umbrella term of advancement or development?
Possibly the scariest role within the Advancement function is fundraising, but it is also the one that is most widely understood. But fundraising is only one part of advancement, and is like the fruit of the tree. The trunk and branches and leaves are community and alumni relations, working with volunteers, managing donors, and helping to manage events. Marketing and communications also play an essential role in advancement. It's the strategic process by which schools develop and carry out integrated mission-based strategies that promote values and nurture constituent relationships with, commitment to, and investment in the school. It is about informing, educating and cultivating your constituencies and telling them the story that connects them to your mission.
Fundamentally, you and I are all part of a strategic process to identify, cultivate, solicit, recognise, and steward stakeholders and donors to establish, connect and nurture relationships and to raise resources. We do that by communicating the benefits, value, and distinct nature of our schools and universities.
That is why our first 'unmissable' professional development opportunity for the year cuts across many disciplines. Given that the two largest capital investments we make in life are our home and our vehicles, at "Closing The Sale" we bring together experts from each sector to share the best 'opening and closing the sale' techniques from their highly competitive, high value industries. There will be many people from your organisation that will be interested applying those principles in all they do to secure enrolments, communicate, and fundraise every day. They are all welcome – click HERE to register today.
So what then, is advancement? Think of it as moving forward and making progress.
When your leadership puts together your organisation's strategic plan, it is a plan to move your school from where it is now to what it wants to be for future generations. To bring that plan to fruition, it takes a solid development effort. So, advancement is the strategic process by which schools advance mission-appropriate constituent relations through the integration of the school's admission, marketing and communications, and development programs. Yes, admission is part of advancement as well. The admission effort is to recruit, enrol, re-recruit, and re-enrol mission-appropriate students.
Educate Plus tries to do the same thing with all of our over 1,750 individual and institutional members across Australia and New Zealand. As the peak professional body for educational advancement professionals, we seek to represent and align the views of our members in order to influence policy and regulate the profession. We are represented in each state and territory through a volunteer chapter committee (the SA & NT Chapter Committee met last week) and we would love to hear how we can serve you better. Help us to all move forward, and drop me an email to let me know how you are doing and how we can help you do better.
I look forward to meeting you in person this year,
Abhra
Abhra Bhattacharjee, President SA/ NT, abhra@scotch.sa.edu.au