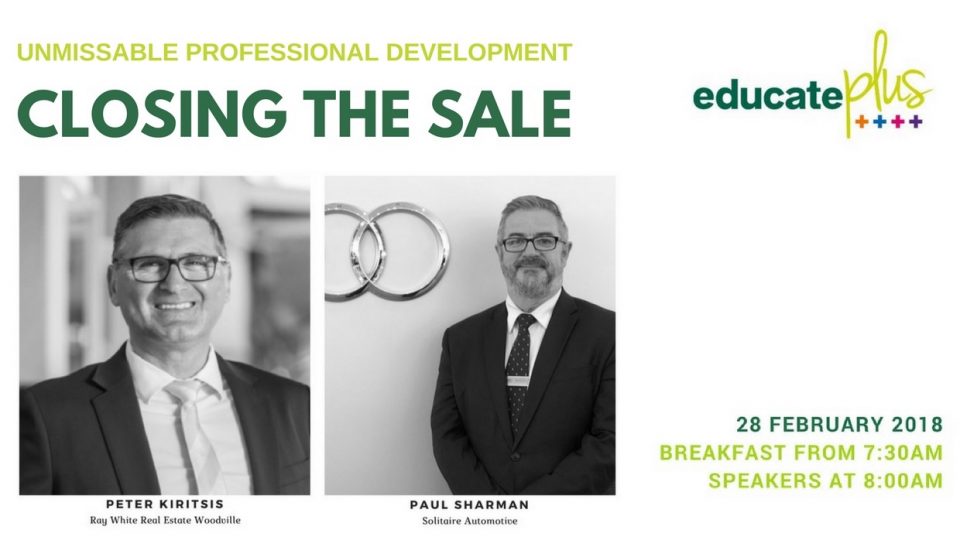 PD "Closing the Sale" – Wednesday 28 Feb
Get tips and techniques for gaining leads, retaining prospects and securing high value sales from the worlds of real estate and automotive sales.
Join your Advancement colleagues from across SA and NT as two leaders in their respective fields share the best 'opening and closing the sale' techniques from their highly competitive, high value industries and consider how they can be applied to securing enrolments, raising funds and fostering long-term relationships at your institution. Understand the important roles effective marketing and communication play in these high stakes industries. 
Date: Wednesday 28 February. Breakfast from 7:30am. Speakers at 8am. (Event finishes at 9am)

Cost: Members: $35 (ex GST) | Non-members: $65 (ex GST)

Venue: Eclipse Level 4, Union House, The University of Adelaide (North Terrace, SA)

Schedule: Breakfast from 7:30am. Speakers at 8am. (Event finishes at 9am)
---
Who should attend? 
Leaders and practitioners working in all four pillars of Advancement – Fundraising, Admissions, Marketing & Communications, Alumni & Community Relations
---
Our Speakers:
Peter Kiritsis (Principal, Ray White Woodville)
Peter has been SA's No.1 Principal in the Ray White network for 13 consecutive years; selling property across Adelaide's western and beachside suburbs for almost 20, and setting many record prices along the way. Today he combines an unmatched wealth of experience and resources to add value to the sale of your home or investment property. Widely known for his excellence in negotiation, this Industry leader and his hardworking team are achieving exceptional results across Adelaide's West and are currently rated No.1 in over 15 suburbs by ratemyagent.com.au.
Paul Sharman (Sales Consultant, Solitaire Automotive)
Paul Sharman has been selling cars for over 30 years. Paul  has sold and managed at Mercedes-Benz , Porsche and now at Audi. In this time he has sold over 3,000 cars. Paul is passionate about selling  and has visited many car factories over the years to fuel his passion. Paul is proud of the fact that many of his clients have followed him along his journey, switching from BMW to Porsche to Mercedes-Benz to Audi. Paul has  sold cars all over Australia which he says adds a little spice to his job.