From the Chaplain
SCEGGS Podcast "Walk the Mile" Episode 1 2021: Changes                                               
I am very excited to have the first episode of the SCEGGS podcast for 2021 ready to be heard. For those who may be new to SCEGGS, Peter Eyers (Head of Drama and the creator of his own podcast "Stages", an exploration into the world of theatre and performance) and I began working on the podcast towards the end of last year and we released four episodes in Term 4. It was received very well so we have decided to try and keep the ball rolling with lots of interesting and challenging conversations with members from all parts of our community. The name Walk the Mile comes from one of the hymns that we sing in Chapel Brother, Sister, Let Me Serve You. In one of the verses, it speaks about walking the mile and bearing the load. One of the core values that we hold here at SCEGGS is that we do our best to walk with one another through whatever might be going on. I believe as humans we can often need support by someone just being present with us, understanding our needs and having compassion for our struggle. It is about connecting with one another's questions and wonders and knowing we are not alone.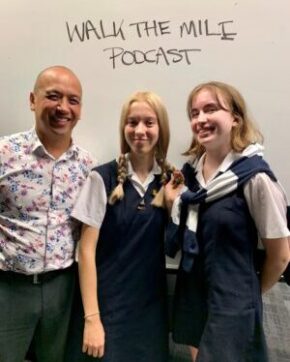 The purpose of this podcast is for the listener to feel like they can be part of the same conversation on topics that affect all of us in some way. My hope is that it will create further conversations where greater connections will be made and another way of building strength within our community and beyond. If you have ideas for topics, any feedback or if you have something you would like to come and talk about, I would love to hear from you.
The intro and outro music (otherwise known as "stings") have been provided by two of our Year 8 students: Lila Eversgerd and Samantha Millin. They are their own original pieces created for an event called "That COVID Show", a selection of songs written by students and recorded for a special presentation that was performed last year. 
The first episode for this year is about change. Two Year 12 students, Amelia Board and Clementine Gleeson-Cook, discuss their experience of change in their own lives, particularly in the school setting, and how they have tried to manage those situations. It is a very insightful look into what it might be like to be growing up in the present environment. I hope you enjoy listening.
Easter Services 
This year's Easter Festival will be held on Wednesday 31 March starting at 7:00pm in the Great Hall. Due to COVID-19 restrictions adults attending will need to register beforehand and scan in via QR code at the event. More details will be given soon. This is always a wonderful ceremony which focuses on the meaning and significance of Easter. The following day the whole school will be involved in our Easter Service in two separate sittings.
 At both of these services a collection will be taken as a donation towards Lou's Place, a local welfare organisation that seeks to meet the needs of women suffering from underprivilege, marginalisation and abuse. SCEGGS Darlinghurst has had a connection to Lou's Place for over a decade and we continue to offer support in a variety of ways. All students have been asked to bring at least a gold coin donation to go towards their Form or year class' Lenten offertory. This can be brought to their Form or class teacher by Wednesday 31 March.
School Community
Occasionally I will conduct different ceremonies for those connected to our school community. 
The photograph below was captured during a Baptism that I performed last Saturday in the School Chapel. I don't think this young lady was very happy about me splashing water on her head.
She has a good right hook!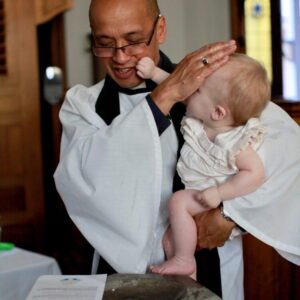 Rev Garry Lee-Lindsay
Chaplain