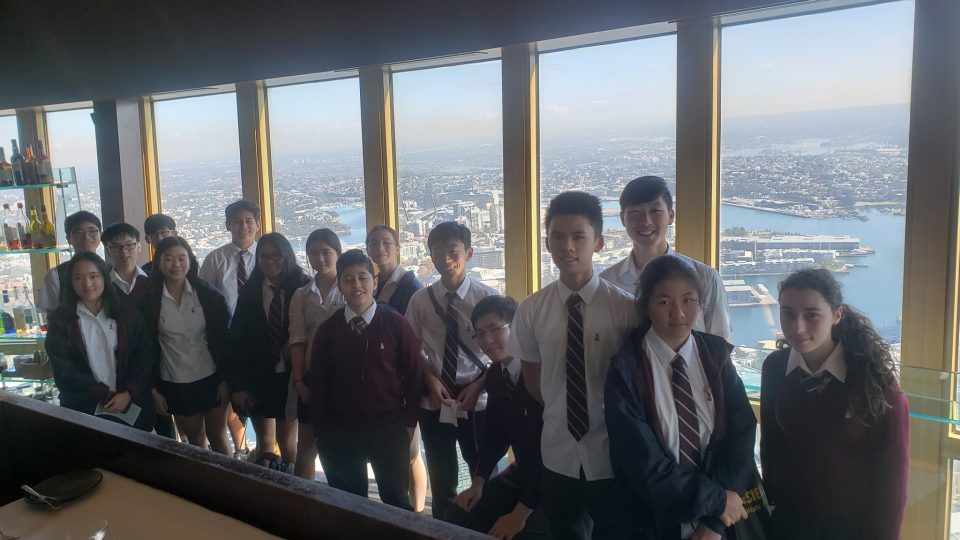 Year 10 Business Studies
Year 10 Business Studies went on excursion to Sydney Tower Restaurants to find out about how they manage their marketing and operations as a case study for our HSC.
We first met outside Pitt Street Mall towards Market Street. After we all arrived, we were greeted by Anita and went down to the basement of the Sydney Tower. This is where the food is received and stored. It is also where the majority of the cooking happens as the kitchen on the top of the tower is too small. We were given a tour of the commercial kitchen, which is something we had not seen before. During this tour we were able to talk to the executive chef, which explained to us the importance of temperature control and controlling cross contamination. After this, we went up to the tower and were shown the a la carte restaurant. Thankfully, it was a clear day and we were able to see the city and beyond very clearly. We could even see our school. Anita then dismissed us at the buffet upstairs where we spend the next 2 hours eating. The food was great and the view even better. The restaurant then began to rotate, showing us a 360º view of the city.
After we were done eating, we went to the local court. However, the security guard at the court we were booked in to advised we should go to the Downing Centre court complex instead as their court was very small with not much activity. At the Downing Centre we were briefed about courtesy and the court system by both Mrs Jerrems and the sheriff present. We were split into 2 groups as the courts didn't have too many seats. It was amazing to get an insight into the legal system.
It was probably one of the best excursions we have ever had and the class would like to thank Mrs Jerrems for arranging this assignment for us.
Manit Anand Year 10​