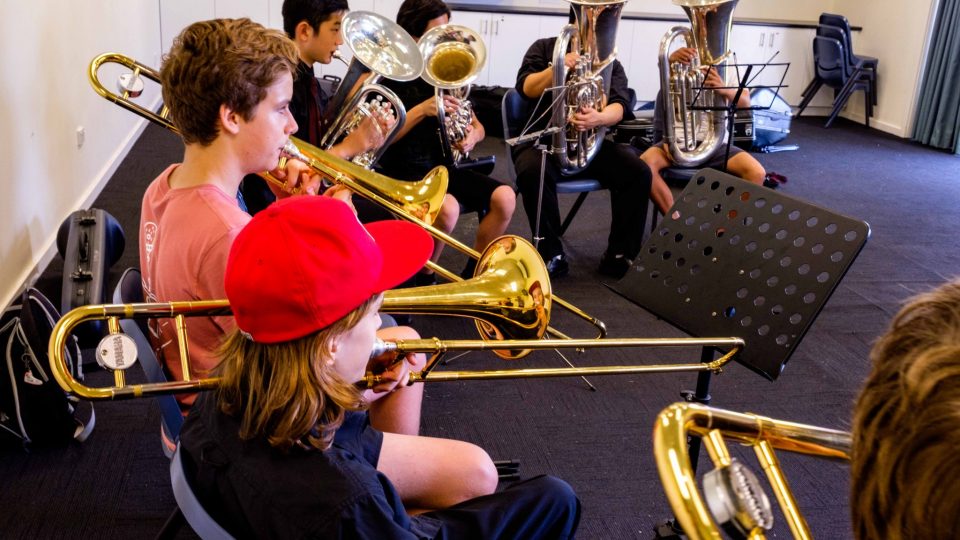 Instrumental Music Program
Annual IMP Camp
This year's IMP camp was held last weekend at the Crusaders Conference Centre, Galston.  Students experienced three days of intensive musical training and performance amid a gorgeous bush setting, with amazing sunrises and sunsets.  This was the second camp at this new venue, but it was almost at capacity with 186 students making it the largest IMP camp ever. Numbers will be limited to 190 in future years so remember to get in quickly if you want to be part of this great experience next year.
Students could nominate two ensembles to rehearse and perform with, including Wind Bands, Orchestras, Choirs, and Chamber ensembles.​ This year there were twelve Ensemble B groups, ranging from a large vocal ensemble to Year 11 chamber groups. The Camp Item, in which all students participated, introduced historical performance practice and singing in German, via two movements from the monumental Christmas Oratorio by Bach.
As Camp Director, it is one of the great joys in life to hear music coming from every corner of the camp site, and to watch our wonderful and talented students completely engaged in music-making and learning.
Guest conductors and tutors loved being a part of such a collegiate and positive environment, and it was great to see older and more experienced IMP members mentoring and guiding younger students. Year 11 did a great job of mentoring younger students, and running evening concerts and games. This was their first foray into major IMP leadership roles, and they were smart, professional, and organised. Bravo!
The traditional concert to conclude the camp on Sunday afternoon was attended by hundreds of parents, friends, and relatives, who enjoyed afternoon tea and performances by many of the ensembles which provided entertainment before the final camp concert.
Grateful thanks to all the parents who donated time (and cakes) to the camp. Special thanks go to Kebinh Tran, the parent camp coordinator, and to Ms Mattick, Mr Chapman, and Ms Thompson, for giving up their weekend to help out on camp.
Instrument Hire Fees Due
A reminder that if you hire an instrument from the IMP, you will shortly receive an invoice and the charge will appear on your school account. Please make sure your hire fees are paid by the start of Term 2.