Message From the Principal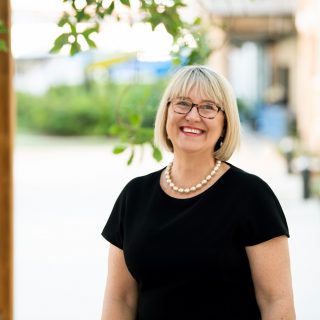 Last week our College came together (virtually) to celebrate Speech Night.  It was a wonderful night celebrating hope, joy, creativity, leadership and academic achievement. The theme for the evening was hope for a joy-filled future.  The evening began with our visual and performing arts staff and students creating an atmosphere of excellence through a piece titled Ocean Dreams. The performance was simply breathtaking beginning with Chloe Dickinson's rendition of the Russian opera piece, supported by our dance troupe and wearable art, taking the audience on an exciting journey.  This was followed by our Year in Review video which was expertly put together by Lorie Korn in our IT Department.  I do hope our friends and families have been able to watch the recording of the night on our website to appreciate the outstanding performances by all of our talented staff and students.
My heartfelt thanks are extended to the extraordinary team of music, drama, dance staff and instrumental teachers, led by Alyssa Kelly and John Goulter.  This was a professional event, which set the standard and tone for the presentation of honour awards and academic prizes.  The final concert band item for the evening was nothing short of spectacular.  Conducted and composed by Dr Mark Smith, this performance of all of our instrumental groups was the result of nine months of rehearsals.  We are a community rich in talent and skill and it was certainly on show last Thursday evening. 
Our special guest Ali Clark (nee Lyons) inspired our students to use the gift and privilege of an education in the Mercy tradition to challenge stereotypes, fight injustice and make a difference in the world.  She spoke of the joy and experience of her time spent at the College, graduating in 2001.  Ali challenged our students to seek more screen-free time, reconnecting with friends and family on a regular basis to prioritise healthy relationships.  I know I speak on behalf of our community when I say thank you for sharing your experience and seeking to empower young women to dare to imagine what they will achieve in their lives.
The Towards 2025 Strategic Plan was finally launched, an exciting and visionary document that encapsulates the strategic framework whilst respectfully honouring the past and all those who have contributed to the legacy of our College, positioning the College to respond to and lead in a highly dynamic environment.  Emerging out of close consultation with current and past students, staff and families the Towards 2025 Strategic Plan showcases the shared vision, mission and hope of our community. 
I congratulate all of the students who were presented with awards on this evening and encourage all of our students to focus on the positives, acknowledging that this year has been incredibly challenging for young people. I am immensely proud of the way our students have demonstrated persistence, optimism and kindness to help them navigate their journey. Certainly, the students who have faced the most incredible challenges have been our Year 12 cohort.  As they begin their external exams this week we are all sending them strength and love.  We wish for them to remember the years of preparation they have undertaken and the need now to focus on positive self-belief. The College community and sisters are right behind you and we look forward to gathering again on Thursday 19 October, for the Year 12 Valedictory Mass.
May God bless you and your families.
Amber Hauff
College Principal