Principal's Report
Dear Fortians, Parents, Carers,
I had the absolute pleasure of attending the Year 12 Drama and Music showcase evening last week to see and hear the works that Year 12 students have been preparing for their HSC performances and practical submissions. The standard of these evenings is always very high, and all students deserve praise for the time, effort and creativity that have gone into their works. It is difficult to single out particular individuals amongst such a high standard, but the Drama group performance of Lucy Bailey, Rosie Hearne, Tara Luckock, Julien Parry and Oliver Reucassel was particularly entertaining, the Music Extension performance by Hugo Giles (Clarinet), Patrick Wu (piano), Michelle Yang (flute) was a delight, Robert Hart's composition in the style of Philip Glass mesmerising and Tara Luckock's imagining of Antigone powerful.
The Drama students completed their HSC performance examination on Thursday 29 August, and the HSC Music performances are scheduled for Friday 13 September. Thanks and acknowledgement must also go to the teachers who have guided and advised these students throughout their projects – Ms Carolyn Mattick for Drama and Mr John Ockwell for Music. I am looking forward to seeing the completed Year 12 Visual Arts Bodies of Work and English Extension 2 projects at their respective showcases this week, on Monday 2 September from 5:00pm in the Library and Friday 6 September from 6:00pm in the Staff Common Room.
On Friday 30 August the school celebrated Wear it Purple Day. Students and staff had the opportunity to wear purple mufti to school to show support for their LGBTQI+ family, friends, colleagues and peers, and to take a stand against discrimination, bullying and homophobia in all its forms. Our assembly was planned and led by the school's Diversity Committee under the leadership of Marley Donald and Meg Raven from Year 10. They sourced a guest speaker who spoke personally about the importance of recognition, support and respect in her own life. It was a powerful message, and one that seemed to be appreciated by the whole school.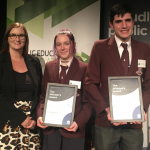 A presentation ceremony for the 2019 NSW Minister's and Secretary's Awards for Excellence was held at Sydney Town Hall on Tuesday 27th August. The Hon Sarah Mitchell MLC presented 37 awards to students across the state and I am extremely proud to congratulate two of our wonderful Year 12 students for receiving this significant award for student achievement. Congratulations to Niamh Elliott-Brennan and Georgio Hawi on this outstanding achievement. It was also a great honour for one of our students Emily Miers (Year 11) to be one of only two students selected by the Performing Arts Unit to attend and perform at this ceremony. Emily performed a piece on the French Horn.
Over the past fortnight I have received two contrasting emails from members of the public. The first:
"I wanted to sincerely express my appreciation for the conscientious behaviour of one of your senior students this morning, Tuesday 20 August. The student was traveling to school, on the 440 bus, boarding in Lilyfield and alighting at the south end of Norton St.
"The bus stop was crowded with 15 or so people yet he stood and waited until everyone else boarded on the bus including those who arrived after him, helping people with their things or waving people ahead of him. He sat down only if there was a seat left for him and was the first to stand and offer a seat to anyone who hopped on. He wasn't staring at a phone, just listening to something via his headphones…
"If these virtues of consideration, politeness, mindfulness, respect for others and humility are encouraged and emphasised by the school, they certainly are appreciated and this ought to be continued, especially as they become rarer in our fast paced faceless Sydney society."
And the second:
"The school needs to remind students that seats on trains are to be offered to the elderly and people who are pregnant. I am 37 weeks pregnant and two of the students from your school did not get up or offer the seat."
Obviously the first was a delight to receive, the second a disappointment. I believe and hope that the former is more typical of our students' behaviour. Although it is rare for members of the public to make the time to contact the school for positive reasons, I have observed similar behaviour from our students myself on my public transport journeys to and from school. However, I would ask all families to discuss not only students' obligation to offer their seats to adult passengers when travelling on public transport, as one of the conditions of their Opal Cards, but also the courtesy and good manners that they are expected to show on public transport generally, whether they are travelling to or from school or as private citizens.
The school is currently preparing for the commencement of three major and long-awaited building projects. The refit of the K2 workshop to provide a space more suited to the needs of a modern Technology faculty has already begun, and the relocations of the Library and Food Laboratory facilities are underway so that renovations of those spaces can begin shortly. There will be significant disruptions and inconveniences over the next six months as these works are completed, but I am looking forward to having the greatly improved learning facilities that our students and staff deserve.
Mr Giorgio Speranza (PDHPE) and Ms Francesca Triolo (Front Office) were the holders of our staff trophy in weeks 5 and 6 respectively. Giorgio was nominated as an outstanding temporary staff member who has been doing a great job as assistant advisor for Year 11 in Ms Cotton's absence. Francesca was nominated for her professionalism and for making everyone feel welcome at Fort Street. Congratulations to both of these staff members.
Finally, this week Public Schools across NSW have celebrated SAS Staff Appreciation Week, in honour of the hard work of School Administrative and Support staff in our schools. Fort Street is privileged to have a particularly fine group of SAS Staff led by our SAM Ms Janette Levy, who work not only in the Front Office, but also in the Library, Science and TAS faculties. The dedication and commitment of these staff to the school, and their care and concern for our students and families is greatly appreciated and invaluable to the smooth and effective running of the school, and the teaching and learning that happens within it. I would like to acknowledge the essential role they play at the Fort, and encourage students and parents to show their appreciation as well, as you have the opportunity in the coming weeks.